04 July, 2019
Visitors urged to discover the unique landscape of the North West Highlands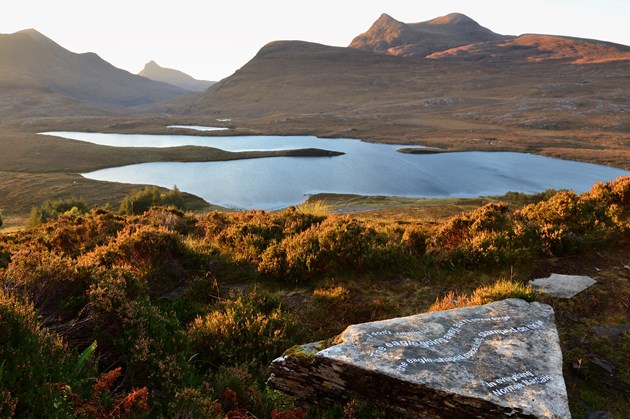 A popular tourist route has been given a makeover to help visitors explore its unique landscape and geology.

New road signs have been installed throughout the North West Highlands UNESCO Global Geopark to encourage people to slow down and discover the Rock Route.
The interpretative trail guides visitors between Ullapool and Loch Eriboll, with a series of 14 panels giving a flavour of the landscape and geology.
Using the distinctive Geopark logo of a Celtic knot, the long-established route is now clearly marked throughout the Geopark.
In addition to the new signs, a number of 'GeoPods' have been installed to give local tourist information at Strathcanaird and Rhiconnich.
As visitors have increased to the Geopark, most recently through the popularity of the North Coast 500 tourist trail, the Rock Route aims to encourage travellers to stop more to enjoy and learn more about the astonishing landscape of the north-west.
The new signs have been made possible with funding through the Highland LEADER programme, Scottish Natural Heritage and Scottish and Southern Electricity's Sustainable Development Fund, Highland Council Ward Discretionary Fund and the Geopark's own funds.
Knockan Crag National Nature Reserve, north of Ullapool, which is on the Rock Route, is owned and managed by Scottish Natural Heritage. In 2018, this remarkable site saw the highest number of visitors in 15 years.
Reserve Manager Sue Agnew said: "While we welcome this increase in visitors to our National Nature Reserve, we really want to encourage people to stop a while and explore the surrounding countryside.
"SNH established the Rock Route through the Geopark in 2001, and upgraded and extended it in 2013, but some of the stops were actually quite difficult to find.
"Working with the Geopark on this project the sites are now more clearly sign posted, making them much more accessible for all to stop and enjoy this unique landscape."
Peter Harrison, who led the project on behalf of the Geopark, said: "We hope everyone will appreciate this newly signposted route. It takes in some of the best viewpoints in the Geopark, including Knockan Crag National Nature Reserve and the Rock Stop Geocentre at Unapool near Kylesku which is the home of the Geopark.
"You can learn more about the landscape in the area here, whilst having a cup of tea! We have also sign-posted our GeoPods which give more local information on where to visit in the Geopark, and how the landscape has developed to what we see today."
ENDS
Media enquiries: Contact the SNH press office on 0131 316 2655 or snhmedia@nature.scot.
Contact information
Name

SNH Media

Email
Scottish Natural Heritage is Scotland's nature agency. We work to improve our natural environment in Scotland and inspire everyone to care more about it. So that all nature in Scotland - our key habitats and landscapes, all our green space and our native species - is maintained, enhanced and brings us benefits. It is the job of all of us to achieve a balance in the sensitive management of our natural world in order to maintain and enhance biodiversity. For more information, visit our website at www.nature.scot or follow us on Twitter at https://twitter.com/nature_scot
'S e Dualchas Nàdair na h-Alba buidheann nàdair na h-Alba. Tha sinn ag obair airson ar n-àrainneachd nàdarra ann an Alba a thoirt am feabhas agus a h-uile duine a bhrosnachadh gus barrachd cùraim a ghabhail dhi. Gus am bi an nàdar air fad ann an Alba – ar prìomh àrainnean is chruthan-tìre, ar n-àiteachan uaine gu lèir is ar gnèithean dùthchasach - air an gleidheadh, air an leasachadh 's a' toirt bhuannachdan dhuinn. 'S e an dleastanas a th' oirnn uile co-chothrom ann an stiùireadh faiceallach ar saoghail nàdarra a ruighinn airson bith-iomadachd a ghleidheadh 's a leasachadh. Airson an tuilleadh fios, tadhail air an làraich-lìn againn aig www.nature.scot/gaelic no lean air Twitter sinn aig https://twitter.com/nature_scot