20 March, 2019
UK scientific first for ancient Caledonian pine forest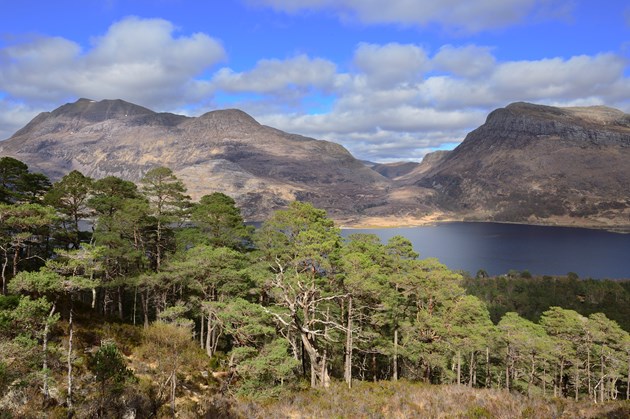 The uniqueness of Beinn Eighe's ancient Caledonian pine forest has been recognised with the establishment of the National Nature Reserve (NNR) as the UK's first area designated for genetic conservation.

Beinn Eighe was the UK's first NNR, and now it is hailed as a genetic first.
The move reinforces the special nature of the pines at the Wester Ross reserve and the importance of protecting them for future generations.
Some of the remarkable specimens at Beinn Eighe are more than 350 years old, and the genetic composition of the pinewood has been shown to be truly distinct.
Research has shown that the Beinn Eighe trees colonised via a different route from pines in other parts of Scotland after the last ice-age, and recent scientific work makes it clear that these pines have a unique genetic diversity.
The Scottish Natural Heritage (SNH) reserve is managed to conserve this special woodland, and now this work has been formally recognised with the registration of the site as a Gene Conservation Unit with the European Forest Genetic Resources Programme (EUFORGEN).
Gene Conservation Units have been set up elsewhere in Europe, but this this step reflects a major breakthrough for genetic conservation of wild species in the UK.
This new status for the NNR is a vitally important contribution to the care of the core biodiversity of Scotland. Genetic diversity is essential for resilience to pressures such as climate change and tree diseases, allowing populations to adapt as conditions change.
The intention is that the designation of the Beinn Eighe pinewood will act as a beacon for the UK, leading the way for gene conservation units to be established for all of our tree species.
Jeanette Hall, SNH Woodlands specialist, said: "Beinn Eighe is renowned for the beauty of its ancient Caledonian pine forest and we've been working to restore and expand this unique woodland for more than 65 years.
"Registering the nature reserve as the UK's first Gene Conservation Unit shows how committed we are to protecting and preserving these special trees.
"It also marks another important step towards meeting our international obligations on gene conservation."
Professor Pete Hollingsworth, Director of Science and Deputy Keeper at the Royal Botanic Garden Edinburgh, said: "Conserving genetic diversity is important. Loss of genetic diversity can lead to elevated extinction risks for populations or species and reduce their ability to adapt to future changes in the environment. Integrating genetics into conservation planning is thus important for long-term species survival prospects".
Organisations involved in the Beinn Eighe designation include: Scottish Natural Heritage, Royal Botanic Garden Edinburgh, University of Edinburgh, Centre for Ecology & Hydrology, Forest Research and Forestry Commission Scotland.
ENDS
Media enquiries: Contact the SNH press office on 0131 316 2655 or snhmedia@nature.scot.
Contact information
Name

SNH Media

Email
Notes to editors
Beinn Eighe was the UK's first National Nature Reserve (NNR) when it was set up in 1951. Find out more about the reserve and its Caledonian pine forest here: https://www.nature.scot/enjoying-outdoors/scotlands-national-nature-reserves/beinn-eighe-and-loch-maree-islands-national-nature-reserve
A Gene Conservation Unit is a clearly mapped area of forest or woodland where dynamic gene conservation is one of the main management priorities for one or more tree species. The dynamic gene conservation approach emphasises the maintenance of evolutionary processes within tree populations to safeguard their potential for continuous adaptation. This includes managing sites to allow and encourage production of new seedlings and saplings.
EUFORGEN – the European Forest Genetic Resources Programme – is an international cooperation programme that promotes the conservation and sustainable use of forest genetic resources in Europe. Experts from member countries come together within EUFORGEN to exchange information and experience, analyse policies and practice, and develop science-based strategies, tools and methods to improve the management of forest genetic resources. For more information see: http://www.euforgen.org/
Scottish Natural Heritage is Scotland's nature agency. We work to improve our natural environment in Scotland and inspire everyone to care more about it. We work to ensure that all nature in Scotland - our key habitats and landscapes, all our green space and our native species - is maintained, enhanced and brings us benefits. It is the job of all of us to achieve a balance in the sensitive management of our natural world in order to maintain and enhance biodiversity. For more information, visit our website at www.nature.scot or follow us on Twitter at https://twitter.com/nature_scot
'S e Dualchas Nàdair na h-Alba buidheann nàdair na h-Alba. Tha sinn ag obair airson ar n-àrainneachd nàdarra ann an Alba a thoirt am feabhas agus a h-uile duine a bhrosnachadh gus barrachd cùraim a ghabhail dhi. Gus am bi an nàdar air fad ann an Alba – ar prìomh àrainnean is chruthan-tìre, ar n-àiteachan uaine gu lèir is ar gnèithean dùthchasach - air an gleidheadh, air an leasachadh 's a' toirt bhuannachdan dhuinn. 'S e an dleastanas a th' oirnn uile co-chothrom ann an stiùireadh faiceallach ar saoghail nàdarra a ruighinn airson bith-iomadachd a ghleidheadh 's a leasachadh. Airson an tuilleadh fios, tadhail air an làraich-lìn againn aig www.nature.scot/gaelic no lean air Twitter sinn aig https://twitter.com/nature_scot