11 February, 2019
Take inspiration from nature this Valentine's Day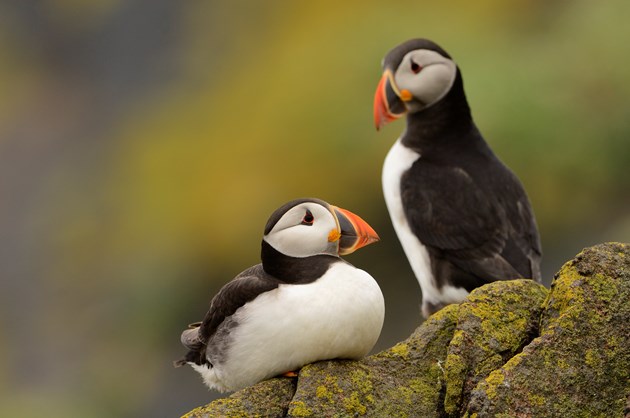 Valentine's Day is rapidly approaching, and in a world of dating apps, social media and swiping left or right; finding - and impressing - the Love of Your Life is at the top of the agenda for many romantics. But if you're looking to go beyond the usual champagne and chocolates, Scottish Natural Heritage (SNH) suggests looking at nature for inspiration.
If your quest for lifelong love is hitting the buffers, you could take comfort that wildlife find remaining faithful to a single partner equally tricky, with swans, wolves and Eurasian beavers among the rare exceptions. But the natural world still goes all-out, even for a brief romance.
SNH Biodiversity Strategy Manager Debbie Bassett said: "We know seeking a partner isn't unique to humans; it's everywhere in the natural world - but it's the lengths that certain species go to that are undeniably impressive".
In their quest for love, adders literally 'undress' and put on a new suit simultaneously. The males shed their skin to reveal a fresh shiny one. Once a lady friend is found, the male will slither over her and flick his tongue over her scales to romance her.
Some wildlife has to make the most of a brief window for romance. The normally solitary and fiercely territorial pine marten has just a few days where the female is receptive to mating. Even if mating is successful, a stressed, ill or hungry pine marten won't produce young – and a whole year will pass before the time is right to try again.
Doomed romance seems to be the lot of the male dotterel. For this bird - a visitor to Scotland and a member of the plover family – traditional roles are reversed. The female, rather than the male, sports a colourful and attractive plumage during courtship, and the male rears the eggs. But proving that sometimes even your best efforts don't pay off – while he's raising the family, she often pairs up with other males to produce more young.
Perhaps a shared hobby – even a pretty weird one – is the key to staying together. Somewhat disgustingly, the sexton beetle uses food - often animal carcasses - as a relationship bonding tool. This beetle, widespread in Britain, can locate a corpse from up to two miles away within an hour of death. A male-female pair bury the body, strip away any fur or feathers and shape the flesh into a compact ball, dousing it with anti-bacterial secretions to slow down decomposition. The female then lays her eggs in the soil nearby, and unusually for insects, these beetles also share parental duties.
Debbie added: "Nature is inspiring and fascinating at Valentine's Day, and throughout the year. But for wildlife, the quest for love isn't a game, and it's not about romance – it's a strategy for survival. Wildlife will do whatever it takes to help ensure the continuation of its species – whether that's pairing up for life, or moving from partner to partner. There's no 'one size fits all' when it comes to courtship in nature, and what works best can be very individual to each species".
So if you don't happen to fit the traditional mould of 'one partner for life' – know that you're in good company, as far as some of our most fascinating wildlife is concerned.
ENDS-
MEDIA QUERIES
For more information, contact the SNH press office on snhmedia@nature.scot or 0131 316 2655.
All images ©Lorne Gill/SNH: common toads, captive European otters, puffins on the Isle of May NNR, mating male and female adders.
Contact information
Name

SNH Media

Email
Notes to editors
NOTES TO EDITORS
Scottish Natural Heritage is the government's adviser on all aspects of nature and landscape across Scotland. Our role is to help everyone understand, value and enjoy Scotland's nature now and in the future. For more information, visit our website at www.nature.scot. SNH media is also on Twitter at www.twitter.com/nature_scot
Scottish Natural Heritage is Scotland's nature agency. We work to improve our natural environment in Scotland and inspire everyone to care more about it. So that all nature in Scotland - our key habitats and landscapes, all our green space and our native species - is maintained, enhanced and brings us benefits. It is the job of all of us to achieve a balance in the sensitive management of our natural world in order to maintain and enhance biodiversity. For more information, visit our website at www.nature.scot or follow us on Twitter at https://twitter.com/nature_scot
'S e Dualchas Nàdair na h-Alba buidheann nàdair na h-Alba. Tha sinn ag obair airson ar n-àrainneachd nàdarra ann an Alba a thoirt am feabhas agus a h-uile duine a bhrosnachadh gus barrachd cùraim a ghabhail dhi. Gus am bi an nàdar air fad ann an Alba – ar prìomh àrainnean is chruthan-tìre, ar n-àiteachan uaine gu lèir is ar gnèithean dùthchasach - air an gleidheadh, air an leasachadh 's a' toirt bhuannachdan dhuinn. 'S e an dleastanas a th' oirnn uile co-chothrom ann an stiùireadh faiceallach ar saoghail nàdarra a ruighinn airson bith-iomadachd a ghleidheadh 's a leasachadh. Airson an tuilleadh fios, tadhail air an làraich-lìn againn aig www.nature.scot/gaelic no lean air Twitter sinn aig https://twitter.com/nature_scot