17 January, 2019
SNH success in reducing carbon emissions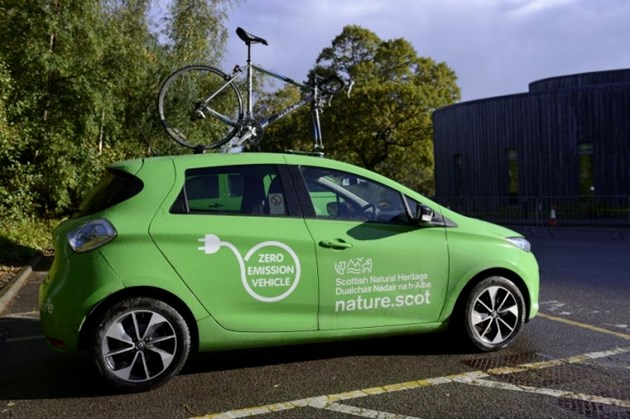 Scottish Natural Heritage (SNH) has slashed carbon emissions by more than a quarter over the past three years as the organisation steps up action to tackle climate change.
In 2017/18 SNH's total emissions were 1,108 tonnes of co2 - a reduction of 11% year-on-year and a fall of 29% since 2014/15 when mandatory reporting for public bodies was first introduced.
The figure includes all emissions from offices, visitor centres, oil for heating, biomass, pool cars, public transport, flights and ferries.
During March 2018 staff ditched their cars to cover 23,403 miles over 1,555 journeys by foot, bike, public transport or lift-share.
The effort saved 2,689 kg of carbon emissions and put SNH top of our category in the Sustrans Scottish Workplace Journey Challenge.
The organisation is working towards running its pool car fleet without fossil-based fuels by 2026, with five electric cars acquired in 2017/18 and charging points installed at four sites.
Nine more electric vehicles are planned to be added to the fleet and ten more charging points installed over 2018/19.
A new, more efficient, biomass boiler has been installed at SNH's Golspie office and office running costs have been lowered by reducing floor space and sharing with other public bodies as staff move towards more mobile working.
SNH Chief Executive Francesca Osowska said: "Climate change presents the single greatest threat to Scotland's habitats, so it is imperative that we do all that we can to reduce our carbon footprint.
"As the organisation with primary responsibility for protecting Scotland's nature, we are determined to lead by example and are delighted that the efforts of all our staff have paid off with this fantastic reduction.
"We are not complacent, however, and will continue to work to cut our emissions even further to ensure Scotland's nature survives and thrives for future generations."
Contact information
Name

SNH Media

Email
Notes to editors
For those who want to do more to help tackle climate change and protect our precious natural heritage, here are some top tips for small changes that can make a big difference.
Ditch the car and walk or cycle instead. Not only will you cut down on carbon emissions but being active is great for both physical and mental health.
Set your washing machine cycle to 30 degrees. A lower temperature wash will save energy and also cut your fuel bill.
Turn down the thermostat by just one degree. You might not notice the difference but your pocket will with a saving of around £90 a year.
Reduce food waste. The average Scottish household throws away around £470 worth of food every year so use up leftovers, reduce what you buy and plan meals ahead of time.
Scottish Natural Heritage is Scotland's nature agency. We work to improve our natural environment in Scotland and inspire everyone to care more about it. So that all nature in Scotland - our key habitats and landscapes, all our green space and our native species - is maintained, enhanced and brings us benefits. It is the job of all of us to achieve a balance in the sensitive management of our natural world in order to maintain and enhance biodiversity. For more information, visit our website at www.nature.scot or follow us on Twitter at https://twitter.com/nature_scot
'S e Dualchas Nàdair na h-Alba buidheann nàdair na h-Alba. Tha sinn ag obair airson ar n-àrainneachd nàdarra ann an Alba a thoirt am feabhas agus a h-uile duine a bhrosnachadh gus barrachd cùraim a ghabhail dhi. Gus am bi an nàdar air fad ann an Alba – ar prìomh àrainnean is chruthan-tìre, ar n-àiteachan uaine gu lèir is ar gnèithean dùthchasach - air an gleidheadh, air an leasachadh 's a' toirt bhuannachdan dhuinn. 'S e an dleastanas a th' oirnn uile co-chothrom ann an stiùireadh faiceallach ar saoghail nàdarra a ruighinn airson bith-iomadachd a ghleidheadh 's a leasachadh. Airson an tuilleadh fios, tadhail air an làraich-lìn againn aig www.nature.scot/gaelic no lean air Twitter sinn aig https://twitter.com/nature_scot