10 August, 2018
Scottish Natural Heritage CEO to Cycle through West Scotland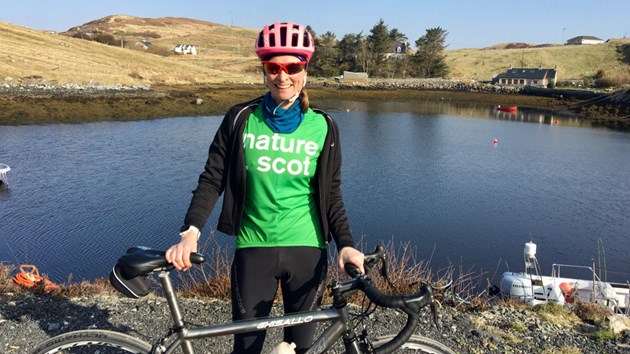 Francesca Osowska, CEO of Scottish Natural Heritage (SNH), has set herself an arduous task: cycling over 1300 miles across Scotland, divided into seven, 5-day-long legs. On 13 August Francesca sets off from Creag Meagaidh National Nature Reserve (NNR) on the sixth leg of her journey, taking her along the spectacular Loch Linnhe coast on route 78 of the National Cycle Network. She'll cycle into the picturesque Kilmartin Glen, home to hundreds of prehistoric standing stones, cairns, and cists. Local media and SNH staff are invited to join at any point during her journey.
From 13-17 August, Francesca will cycle across the west of Scotland, meeting with local staff at SNH offices in Fort William, Oban, Bowmore, and Lochgilphead to discover more about their vital work "on the ground". She'll join members of the Argyll Countryside Trust to discuss the Collaborative Action for the Natural Network (CANN) project on Islay, which works to restore peatlands that play an important role in tackling the effects of climate change.
Beavers are not always easy to see, but Francesca is hoping to see what they have been up to when she visits the site of the original Scottish Beaver Trial in Knapdale. Beavers were first reintroduced to the area in 2009 and Francesca will see how the furry residents have been creating new wetland habitats by building dams, and restoring native woodlands by felling trees that make space for new trees to grow.
At Creag Meagaidh NNR, Francesca will find out more about the reserve's Rural Skills programme, where local people can grow their expertise on topics including conservation, animal handling, and agricultural work.
Over the seven legs of her cycle challenge, Francesca plans to visit at least 38 SNH offices and sites, including 12 NNRs, to meet as many of SNH's 723 staff as she can, and experience hands-on places and projects doing key work to protect the natural environment in Scotland and help people connect to nature.
She has currently cycled just over 1000 miles out of a predicted total of 1300.
Explaining the reasons for her journey, Francesca said: "Even before I started working for SNH, I was fascinated by the geographical spread of our offices. As soon as I was appointed CEO, I knew I wanted to meet all our staff – and, as a keen cyclist, it wasn't long before I shared my idea of cycling to each location.
"SNH's aim is to connect people with nature, and I hope to be an exemplar of that during my cycle. #CycleforNature also fits well with my personal desire to promote physical activity in the workplace, and I encourage all SNH staff interested to join me for their local leg."
Francesca's full schedule for the week will be:
13 August: Creag Meagaidh NNR
14 August: Fort William, Loche Linnhe, Ardgour
15 August: Oban
16 August: Islay, Jura, Knapdale Woods
17 August: Lochgilphead, Kilmartin Glen
Throughout her cycle, Francesca will be blogging and tweeting with the aim of encouraging people to be active in nature using the hashtag #cyclefornature. She will also be raising funds for the Scottish Association for Mental Health through a Just Giving page, a charity voted on by SNH staff.
Contact information
Name

SNH Media

Email
Notes to editors
The Scottish Beaver Trial in Knapdale is now the site of the Scottish Beavers Reinforcement Project and is located on land managed by Forest Enterprise Scotland. The Project is led by the Royal Zoological Society of Scotland and the Scottish Wildlife Trust. SNH licensed the project and coordinates the monitoring requirements.
Media are invited to meet with Francesca during any point of her journey. #CycleforNature is divided into seven legs of five days each:
Leg 1 – w/c 12 March: Galashiels, Edinburgh, Hamilton, Clydebank, Dunnon
Leg 2 – w/c 09 April: Rum, Skye, Stornoway, Ullapool, Kinlochewe
Leg 3 – w/c 29 May: Ayr, Newton Stewart, Cairnsmore of Fleet, Dumfries
Leg 4 – w/c 11 June: Stirling, Loch Leven, Cupar, Battleby
Leg 5 – w/c 16 July: St Cyrus NNR, Glen Tanar NNR, Muir of Dinnet NNR, Aberdeen, Forvie NNR, Elgin, Aviemore
Leg 6 – w/c 13 August: Lochgilphead, Islay, Oban, Fort William, Creag Meagaidh
Leg 7 – w/c 08 October: Lerwick, Kirkwall, Golspie, Dingwall, Inverness
Scottish Natural Heritage is the government's adviser on all aspects of nature and landscape across Scotland. Our role is to help everyone understand, value and enjoy Scotland's nature now and in the future. For more information, visit our website at www.nature.scot. SNH is also on Twitter at http://twitter.com/nature_scot
Scottish Natural Heritage is Scotland's nature agency. We work to improve our natural environment in Scotland and inspire everyone to care more about it. So that all nature in Scotland - our key habitats and landscapes, all our green space and our native species - is maintained, enhanced and brings us benefits. It is the job of all of us to achieve a balance in the sensitive management of our natural world in order to maintain and enhance biodiversity. For more information, visit our website at www.nature.scot or follow us on Twitter at https://twitter.com/nature_scot
'S e Dualchas Nàdair na h-Alba buidheann nàdair na h-Alba. Tha sinn ag obair airson ar n-àrainneachd nàdarra ann an Alba a thoirt am feabhas agus a h-uile duine a bhrosnachadh gus barrachd cùraim a ghabhail dhi. Gus am bi an nàdar air fad ann an Alba – ar prìomh àrainnean is chruthan-tìre, ar n-àiteachan uaine gu lèir is ar gnèithean dùthchasach - air an gleidheadh, air an leasachadh 's a' toirt bhuannachdan dhuinn. 'S e an dleastanas a th' oirnn uile co-chothrom ann an stiùireadh faiceallach ar saoghail nàdarra a ruighinn airson bith-iomadachd a ghleidheadh 's a leasachadh. Airson an tuilleadh fios, tadhail air an làraich-lìn againn aig www.nature.scot/gaelic no lean air Twitter sinn aig https://twitter.com/nature_scot