06 August, 2019
Robot cameras reveal secret lives of basking sharks in UK marine conservation first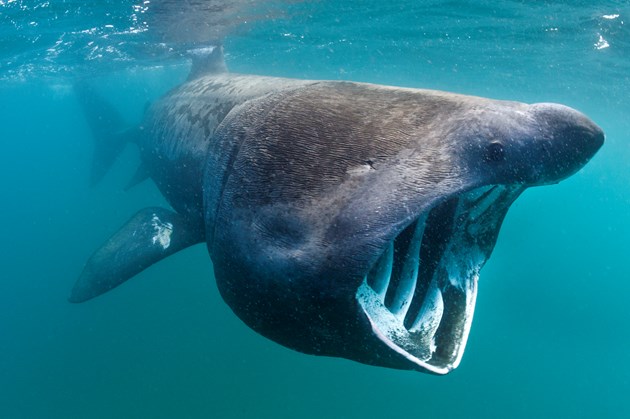 An autonomous 'SharkCam' has been used in the UK for the first time to observe the behaviour of basking sharks in the Inner Hebrides.

The ground-breaking technology is set to reveal the secret lives of the world's second largest fish - a species that little is known about, despite being prevalent in the waters off the west coast of Scotland.
Scientists hope the stunning images captured by the autonomous underwater vehicle (AUV) will reinforce the case for creating the world's first protected area for basking sharks in this part of the sea.
The REMUS SharkCam technology is owned and operated by the Woods Hole Oceanographic Institution (WHOI).
The project is funded by WWF/Sky Ocean Rescue, Scottish Natural Heritage (SNH), WHOI and the University of Exeter.
The team used the AUV to follow basking sharks below the surface of the water and collect high-quality oceanographic data and wide angle high-definition video of their behaviour from a distance. Initial footage from the innovative REMUS-100 metre rated SharkCam Robot deployed off the coast of Coll and Tiree last month shows the sharks moving through the water column, potentially searching for food, feeding near the surface and swimming close to the seabed.
It is hoped that further analysis of the many hours of video footage from the AUV, as well as visuals from towed camera tags attached to the sharks and the deployment of advanced sonar imaging, will uncover more about the underwater behaviour, social interactions, group behaviour and courtship of the species.
Fieldwork for the project took place in July in the proposed Sea of the Hebrides Marine Protected Area (MPA) – one of four possible MPAs currently under consultation by the Scottish Government. MPAs are specially designated and managed to protect marine ecosystems, habitats and species, which can help restore the area for people and wildlife.
The area is one of only a few world-wide where large numbers of basking sharks are found feeding in the surface waters each year.
It is suspected that basking sharks may even breed in Scotland - an event that has never before been captured on film.
Dr Jenny Oates, WWF SEAS Programme Manager, said: "Our seas and coasts are home to some incredible wildlife. As our oceans come under increasing pressure, innovative technology like the REMUS SharkCam Robot can reveal our underwater world like never before and help to show why it must be protected. It is essential that we safeguard our seas, not just to enable magnificent species like basking sharks to thrive, but because all life on earth depends on our oceans."
Dr Suzanne Henderson, Marine Policy and Advice Officer at SNH, who has worked on the basking shark tagging and research project run by SNH and the University of Exeter since 2012, said: "These giant fish are spectacular and watching them feed gracefully at the sea surface is such a special and memorable experience.
"This year's collaboration has allowed us to use a combination of camera technologies and given us a glimpse of basking sharks' underwater behaviour – a real first and very exciting. The footage has already made us reassess their behaviour, with the sharks appearing to spend much more time swimming just above the seabed than we previously thought.
"It really brings home why it's so important that the species and its habitat are protected by designating the Sea of the Hebrides as a Marine Protected Area."
Dr Matthew Witt, of the University of Exeter, said: "This year saw the culmination of a decade of work at Exeter to support the conservation of this species. In collaboration with SNH, we have deployed state of the art equipment over several years to learn of the behaviours of these elusive animals.
"This year, our collaborative efforts expand with exciting new partners, to bring advanced video techniques to help reveal even greater detail on the underwater lives of these animals. Our efforts and resulting information highlight why the proposed MPA is important for securing a more positive conservation future for this iconic Scottish species".
Amy Kukulya, WHOI Research Engineer and SharkCam Principal Investigator, said: "Every time we deploy REMUS SharkCam, we learn something new about the species we are studying.
"We're able to remove the ocean's opaque layer and dive into places never before possible with this ground-breaking technology answering questions about key species and revealing new ones."
Footage gathered by the REMUS SharkCam technology will help support and promote basking shark conservation work by demonstrating how important this area is for the life cycle of the species, adding weight to the case for the MPA designation and providing a better understanding of measures which might help protect this iconic species and its habitat.
The MPA consultation runs until August 30 and members of the public can give their views here: https://consult.gov.scot/marine-scotland/four-new-marine-protected-areas/
ENDS
Contact information
Name

SNH Media

Email
Notes to editors
Footage: Will be available on request from 8am on Tuesday August 6th
Images: Further images of the project can be found at the following link: https://hive.panda.org/Share/0ktkm061ev878ne4a66q5r3xnr2knjl3
Interviews are available with:
Dr Jenny Oates, WWF SEAS Programme Manager – contact Lis Speight, WWF Media Manager on 01483 412241.
Dr Suzanne Henderson, Marine Policy and Advice Officer at SNH – contact Catriona Webster, SNH Communications Officer, on 0131 316 2655 or SNHMEDIA@nature.scot
Dr Matthew Witt, Principal Investigator and Senior Lecturer, University of Exeter – 07775 662 350 m.j.witt@exeter.ac.uk or Dr Lucy Hawkes Co-Investigator and Senior Lecturer, University of Exeter – 07746 107 610 l.hawkes@exeter.ac.uk.
Amy Kukulya, WHOI Research Engineer and SharkCam Principal Investigator – contact Erin Koenig, WHOI Media Relations Manager, 508-289-2270, or media@whoi.edu.
The REMUS-100 SharkCam autonomous underwater vehicle (AUV) is able to collect fine scale resolution biological and physical oceanographic data and high quality visuals of shark and other megafauna behaviour below the surface of the water using an array of 5-6 wide angle video cameras. The SharkCam AUV is programmed to follow a specially designed tag placed on a shark at close quarters and can forward predict where the animal will go and follow along at a safe distance. Mr ROV towed camera tags were also deployed to complement the REMUS technology. The camera tags trail slightly behind the attachment point at the base of the main dorsal fin and can remain on sharks for a longer period of time. The tags are fitted with satellite relocation technology, which will allow researchers to find and collect the tags after they have automatically detached from the basking sharks.
Additional support for the project came from Sea World Busch Gardens Conservation Fund and Hydroid Inc.
Scottish Natural Heritage is the Scottish Government's adviser on all aspects of nature and landscape across Scotland. Our role is to help people understand, value and enjoy Scotland's nature now and in the future. For more information, visit our website at www.nature.scot or follow us on Twitter at https://twitter.com/nature_scot
University of Exeter is a Russell Group university that combines world-class research with very high levels of student satisfaction. Exeter has over 21,000 students and is in the top one per cent of universities worldwide. Exeter is also ranked 10th in the Guardian University Guide 2020 and 14th in The Times and The Sunday Times Good University Guide 2018. In the 2014 Research Excellence Framework (REF), the University ranked 16th nationally, with 98% of its research rated as being of international quality, while in 2017, Exeter was awarded a Gold rating in the Teaching Excellence Framework (TEF) assessment. Exeter was named The Times and The Sunday Times Sports University of the Year 2015-16, in recognition of excellence in performance, education and research. Exeter was The Sunday Times University of the Year 2012-13.
Together WWF & Sky Ocean Rescue are working in partnership to protect our oceans, so they're resilient to challenges like plastic pollution. We're working together to support Marine Protected Areas (MPAs) in acknowledgment of the fact that they are an essential conservation tool to improve the health of the ocean and allow marine environments to recover from degradation, including impacts from shipping, mining, overfishing, climate change and plastic pollution.
Over five years we're donating £10 million to WWF.
By the end of this commitment, in 2023, WWF will have put in place stronger protection for over 400,000 km2 of ocean from unsustainable and damaging practices so marine life can thrive once again.
We'll create a model and strong case for good MPA management and leave a legacy of inspired people, businesses and governments who want to be part of this crucial work.
Alongside the partnership, Sky has committed to go single-use plastic free, in recognition of the devastating impact that plastic pollution is having on the health of our oceans around the world. Sky will eliminate all single-use plastics from its operations, products and supply chain by 2020.
The Woods Hole Oceanographic Institution is a private, non-profit organization on Cape Cod, Mass., dedicated to marine research, engineering, and higher education. Established in 1930 on a recommendation from the National Academy of Sciences, its primary mission is to understand the ocean and its interaction with the Earth as a whole, and to communicate a basic understanding of the ocean's role in the changing global environment. For more information, please visit www.whoi.edu.
Scottish Natural Heritage is Scotland's nature agency. We work to improve our natural environment in Scotland and inspire everyone to care more about it. So that all nature in Scotland - our key habitats and landscapes, all our green space and our native species - is maintained, enhanced and brings us benefits. It is the job of all of us to achieve a balance in the sensitive management of our natural world in order to maintain and enhance biodiversity. For more information, visit our website at www.nature.scot or follow us on Twitter at https://twitter.com/nature_scot
'S e Dualchas Nàdair na h-Alba buidheann nàdair na h-Alba. Tha sinn ag obair airson ar n-àrainneachd nàdarra ann an Alba a thoirt am feabhas agus a h-uile duine a bhrosnachadh gus barrachd cùraim a ghabhail dhi. Gus am bi an nàdar air fad ann an Alba – ar prìomh àrainnean is chruthan-tìre, ar n-àiteachan uaine gu lèir is ar gnèithean dùthchasach - air an gleidheadh, air an leasachadh 's a' toirt bhuannachdan dhuinn. 'S e an dleastanas a th' oirnn uile co-chothrom ann an stiùireadh faiceallach ar saoghail nàdarra a ruighinn airson bith-iomadachd a ghleidheadh 's a leasachadh. Airson an tuilleadh fios, tadhail air an làraich-lìn againn aig www.nature.scot/gaelic no lean air Twitter sinn aig https://twitter.com/nature_scot