13 December, 2018
Reports confirm importance of Orkney's seas to waterbirds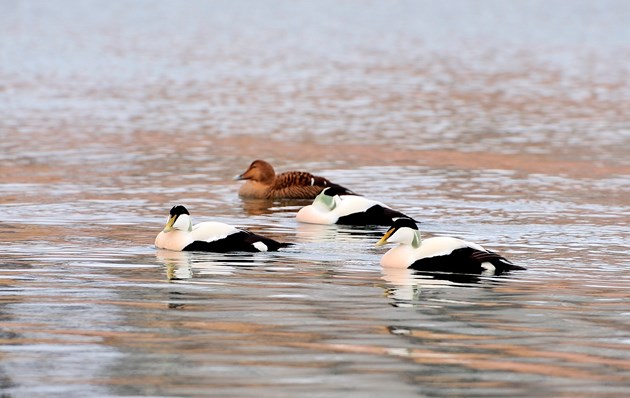 The importance of Orkney's seas for wintering waterbirds, including ducks, divers, grebes and shags, is highlighted by Scottish Natural Heritage (SNH) surveys published today.
The surveys covered the Scapa Flow proposed Special Protection Area (pSPA) and the North Orkney pSPA. The population estimates for the species surveyed were the highest yet recorded, totalling over 11,460 birds in North Orkney and 9,680 birds in Scapa Flow.
The surveys confirm the international importance of these waters to wintering waterbirds indicated by previous surveys, dating back as far as the 1970s. In fact, the work found that Orkney holds more than 40% of great northern divers, Slavonian grebes and long-tailed ducks wintering in Great Britain.
Sally Thomas, SNH's Director of People & Nature, said:
"Orkney is a special place for wildlife, including wintering waterbirds. These surveys vividly illustrate how important Orkney's seas are to these birds, some of which migrate long distances from breeding grounds in Northern Europe to winter here.
"It's remarkable that more than 40% of some of waterbirds overwintering in Britain are found in Orkney waters."
Other marine birds recorded in high numbers included common eider and red-breasted merganser, with more than 10% of their GB populations. North Orkney also held nearly 10% of the GB population of velvet scoters and Scapa Flow 7% of black-throated divers. Over 6,000 European shags were counted as well, representing 6% of the GB population and over 3% of the Northern European population.
The surveys included five complete counts of North Orkney pSPA and four of Scapa Flow pSPA between November 2017 and March 2018. The surveys were mainly done from the shore with additional boat-based counts in central Scapa Flow; they were the first surveys to fully cover both sites by these methods in a single season.
For the full reports, see https://bit.ly/2EuNJjU and https://bit.ly/2UFXu3B
ENDS
MEDIA QUERIES
For more information, including the full reports, contact Vicki Mowat on 0131 316 2659 or vicki.mowat@nature.scot (Tues-Fri) or the SNH media team on 0131 316 2655 or snhmedia@nature.scot.
Contact information
Name

SNH Media

Email
Scottish Natural Heritage is Scotland's nature agency. We work to improve our natural environment in Scotland and inspire everyone to care more about it. We work to ensure that all nature in Scotland - our key habitats and landscapes, all our green space and our native species - is maintained, enhanced and brings us benefits. It is the job of all of us to achieve a balance in the sensitive management of our natural world in order to maintain and enhance biodiversity. For more information, visit our website at www.nature.scot or follow us on Twitter at https://twitter.com/nature_scot
'S e Dualchas Nàdair na h-Alba buidheann nàdair na h-Alba. Tha sinn ag obair airson ar n-àrainneachd nàdarra ann an Alba a thoirt am feabhas agus a h-uile duine a bhrosnachadh gus barrachd cùraim a ghabhail dhi. Gus am bi an nàdar air fad ann an Alba – ar prìomh àrainnean is chruthan-tìre, ar n-àiteachan uaine gu lèir is ar gnèithean dùthchasach - air an gleidheadh, air an leasachadh 's a' toirt bhuannachdan dhuinn. 'S e an dleastanas a th' oirnn uile co-chothrom ann an stiùireadh faiceallach ar saoghail nàdarra a ruighinn airson bith-iomadachd a ghleidheadh 's a leasachadh. Airson an tuilleadh fios, tadhail air an làraich-lìn againn aig www.nature.scot/gaelic no lean air Twitter sinn aig https://twitter.com/nature_scot