13 February, 2019
Owls put on dramatic show at North East beauty spot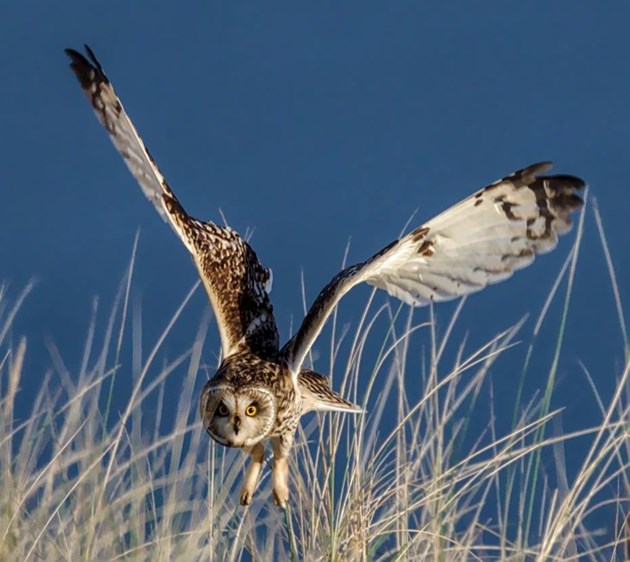 Dramatic scenes of short-eared owls swooping on prey at North East beauty spot this winter have been captured by former Scottish Natural Heritage (SNH) manager, Ron Macdonald, at Forvie National Nature Reserve.
The reserve is managed by SNH. A group of five to seven owls have taken up residence at Forvie since October.
"Short-eared owls are a dream to photograph," said Ron. "Because they fly in daylight, often slowly and perch on posts, they make fantastic portraits. They can be tricky to photograph when flying against the background of heath and dunes but with some basic field craft and photo skills, you will soon get the hang of it. They also become more comfortable with people over the winter, becoming familiar with the visitors hoping to capture their good looks and interesting behaviour."
Ron has been following the Forvie owls for the last four months. And he's not alone: many wildlife photographers have been attracted by the photogenic owls. Although owls are nocturnal, some owls – like short-eared owls – are more active during the day than most other owl species.
Ron is enthusiastic about these charismatic birds: "The short-eared owl is a beautiful bird, with golden yellow irises and black pupils set against black mascara-like feathers, making their eyes stand out. The effect is a piercing stare that literally stops you in your tracks.
"Understandably for a bird that hunts primarily by locating its prey by sound, I come across them much more frequently when winds are lighter and it's dry. Presumably, it's both the sound of the wind and rain and the rustling of the vegetation that's the reason. Anything beyond 15mph or a light rain and it's likely there will be a no show."
For more information, see a blog written by Ron Macdonald on short-eared owls.
About the photographer: For 27 years Ron Macdonald worked for SNH and its predecessor body, the Nature Conservancy Council for Scotland, before retiring in 2015. For 10 years, he served as SNH's Head of Policy & Advice. He now chairs the Advisory Group of the North East Biological Records Centre (NESBReC) and serves on the Scottish Wildlife Trust's Conservation Committee. He's presently working on a film documentary 'The Return of the Giants' which tells the story of the slow return of the humpback whale to Scotland's seas, showcasing, and calling for greater conservation effort for, the diversity of marine life around our shores,
ENDS
MEDIA QUERIES
For more information, contact SNH media relations & PR officer, Vicki Mowat, on 0131 316 2659 or vicki.mowat@nature.scot or the main SNH press office on snhmedia@nature.scot or 0131 316 2655.
Photos are for one-time use only, copyright/credited to Ron Macdonald.
Contact information
Name

SNH Media

Email
Notes to editors
Forvie is one of about 45 NNRs in Scotland. NNRs are special places that look after some of the best of Scotland's nature on behalf of everyone who lives or visits Scotland, and they provide unique opportunities to visit, enjoy and learn more about Scotland's nature.
Scottish Natural Heritage is the government's adviser on all aspects of nature and landscape across Scotland. Our role is to help everyone understand, value and enjoy Scotland's nature now and in the future. For more information, visit our website at www.nature.scot . SNH media is also now on Twitter at www.twitter.com/nature_scot
Scottish Natural Heritage is Scotland's nature agency. We work to improve our natural environment in Scotland and inspire everyone to care more about it. So that all nature in Scotland - our key habitats and landscapes, all our green space and our native species - is maintained, enhanced and brings us benefits. It is the job of all of us to achieve a balance in the sensitive management of our natural world in order to maintain and enhance biodiversity. For more information, visit our website at www.nature.scot or follow us on Twitter at https://twitter.com/nature_scot
'S e Dualchas Nàdair na h-Alba buidheann nàdair na h-Alba. Tha sinn ag obair airson ar n-àrainneachd nàdarra ann an Alba a thoirt am feabhas agus a h-uile duine a bhrosnachadh gus barrachd cùraim a ghabhail dhi. Gus am bi an nàdar air fad ann an Alba – ar prìomh àrainnean is chruthan-tìre, ar n-àiteachan uaine gu lèir is ar gnèithean dùthchasach - air an gleidheadh, air an leasachadh 's a' toirt bhuannachdan dhuinn. 'S e an dleastanas a th' oirnn uile co-chothrom ann an stiùireadh faiceallach ar saoghail nàdarra a ruighinn airson bith-iomadachd a ghleidheadh 's a leasachadh. Airson an tuilleadh fios, tadhail air an làraich-lìn againn aig www.nature.scot/gaelic no lean air Twitter sinn aig https://twitter.com/nature_scot