11 February, 2019
New flagship fund for nature launched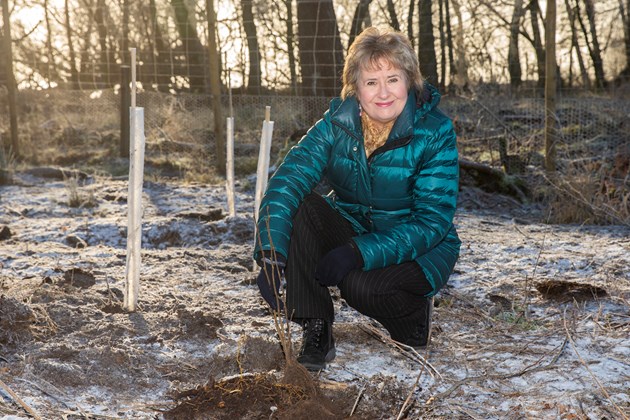 A new fund of up to £2 million to protect and enhance Scotland's nature has been launched.
Scottish Natural Heritage (SNH) has issued a call for ambitious ideas to improve habitats, safeguard species and encourage increased access to nature.
Up to £2million will be available through the two-year Biodiversity Challenge Fund, which was announced in the Scottish Government's programme for government last year.
The first year of the fund is now open, with up to £1million of investment available in 2019/20.
The funding will support large-scale projects that aim to deliver rapid change on the ground to increase the health and resilience of our natural environment.
SNH is particularly seeking innovative ideas that will help our most at-risk habitats and species, including mammals and birds, connect existing nature reserves and protected areas and tackle invasive species.
Environment Secretary Roseanna Cunningham launched the fund at SNH's Loch Leven National Nature Reserve, where she joined volunteers planting native broadleaf trees to attract red squirrels.
Environment Secretary Roseanna Cunningham, said:
"Scotland is leading the way with work to protect our natural environment and we are committed to doing more to safeguard our biodiversity, species and habitats.
"I'm delighted to launch this new fund of up to £2 million, which should enable the creation and improvement of habitats across the country, providing vital support to some of our most vulnerable wildlife, as well as encouraging people to access and enjoy Scotland's incredible natural resources."
SNH Chief Executive Francesca Osowska said: "Our nature - from the green spaces in our towns and cities to our remote and wild mountains, islands, coasts and seas – is a precious national asset and a big part of what makes Scotland so special.
"Scotland has been recognised as a global front-runner for our efforts to tackle biodiversity loss and safeguard our natural heritage, with notable improvements to our marine environment, peatlands, rivers and woodlands in recent years.
"I'm proud of the progress that has been made, but we are not complacent in the face of ongoing challenges such as climate change, habitat loss and invasive non-native species.
"This significant new investment will step up action by supporting ambitious projects to deliver concrete results and help protect our country's incredible natural resources for future generations."
ENDS
Media queries: contact SNH media officer, Vicki Mowat, on 0131 316 2659 or vicki.mowat@nature.scot (Tues-Fri) or the SNH main press office on snhmedia@nature.scot (Mondays).
Contact information
Name

SNH Media

Email
Notes to editors
More information about the fund can be found at https://www.nature.scot/professional-advice/funding/biodiversity-challenge-fund-bcf . Please note this link will not be live until Monday, 11 February.
The 2020 Aichi targets were developed by the UN Convention on Biological Diversity in 2011 to encourage countries around the world to work together to tackle biodiversity loss.
A recent SNH report showed Scotland has exceeded the targets in key areas, with further action needed to ensure sustainable agriculture, aquaculture and forestry and tackle habitat loss, the spread of invasive species and climate change.
The five priority areas for Biodiversity Challenge Fund investment are:
Farmland – projects that make more space for flower-rich habitats and grassland, hedges, woodland and ponds for pollinators, amphibians, and at risk mammals and birds.
Coast and wetlands – projects that revive and extend key ecosystems.
Urban networks – projects that improve waterways, native woods, ponds and wildflower meadows, verges and green corridors.
Combating invasive species – projects that target key areas to be cleared of invasive species e.g. Rhododendron, Japanese knotweed, Himalayan balsam, giant hogweed, and problem mammals.
Connecting reserves and protected areas – projects that support management and partnerships to give added value and benefits around protected areas.
Scottish Natural Heritage is Scotland's nature agency. We work to improve our natural environment in Scotland and inspire everyone to care more about it. So that all nature in Scotland - our key habitats and landscapes, all our green space and our native species - is maintained, enhanced and brings us benefits. It is the job of all of us to achieve a balance in the sensitive management of our natural world in order to maintain and enhance biodiversity. For more information, visit our website at www.nature.scot or follow us on Twitter at https://twitter.com/nature_scot
'S e Dualchas Nàdair na h-Alba buidheann nàdair na h-Alba. Tha sinn ag obair airson ar n-àrainneachd nàdarra ann an Alba a thoirt am feabhas agus a h-uile duine a bhrosnachadh gus barrachd cùraim a ghabhail dhi. Gus am bi an nàdar air fad ann an Alba – ar prìomh àrainnean is chruthan-tìre, ar n-àiteachan uaine gu lèir is ar gnèithean dùthchasach - air an gleidheadh, air an leasachadh 's a' toirt bhuannachdan dhuinn. 'S e an dleastanas a th' oirnn uile co-chothrom ann an stiùireadh faiceallach ar saoghail nàdarra a ruighinn airson bith-iomadachd a ghleidheadh 's a leasachadh. Airson an tuilleadh fios, tadhail air an làraich-lìn againn aig www.nature.scot/gaelic no lean air Twitter sinn aig https://twitter.com/nature_scot