15 March, 2019
NE Scotland reaches 1.5 m wildlife records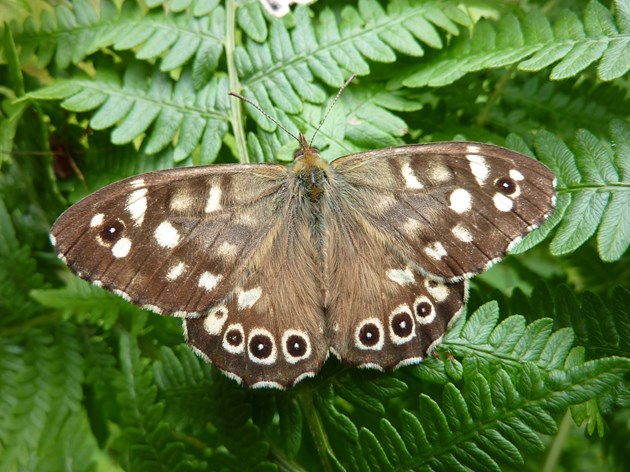 A speckled wood butterfly has become the 1.5 millionth wildlife record logged in North East Scotland.
Spotted by a local butterfly recorder near Banchory, the speckled wood butterfly has increased by more than 30 percent in its distribution and geographical spread across the UK in the last 40 years, and can now be widely seen across Aberdeenshire.
Glenn Roberts, North East Scotland Biological Records Centre (NESBReC) Coordinator, said: "This is a phenomenal achievement for our many 'citizen scientists' in North East Scotland. We're so fortunate to have such a wide variety of wildlife in the area, and we're grateful to everyone who contributed.
"People are often surprised to hear about the many kinds of animals that can be found in the area, from owls to whales to rare fungi. With spring soon to begin there are invertebrates, such as some butterflies and bumblebees, coming out of hibernation, emerging from dusty sheds, garages and holes in the ground. Hedgehogs will also be coming out of hibernation – look out for them in your gardens, in woodland and on our country roads – even a record of roadkill is useful."
Denise Reed, Scottish Nature Heritage's (SNH's) Tayside & Grampian unit manager, added: "I'd encourage everyone to submit their animal sightings. Every record is important: this information is invaluable to help us learn about and protect animals in the North East."
NESBReC welcomes sightings of any wildlife in the North East. While rare species may be more exciting to find, it is very important to record common species too. All records help to build a better understanding of the natural world and can help ensure that decisions, which may affect habitat and species in the North East of Scotland, are made with the best available knowledge.
Wildlife records are maintained by NESBReC, part of Aberdeenshire Council. NESBReC is also supported financially by SNH, Aberdeen City Council, Cairngorms National Park Authority, Forestry Commission Scotland and RSPB Scotland.
Wildlife sightings can be sent to nesbrec@aberdeenshire.gov.uk. A simple sighting record should contain four key pieces of information: what was seen, where it was seen, who saw it, and when it was seen. For more information on how to send in a sighting, see www.nesbrec.org.uk .
ENDS
Media queries - contact SNH PR & media officer Vicki Mowat on 0131 316 2659 or vicki.mowat@nature.scot or the SNH main press office on 0131 316 2655 or snhmedia@nature.scot.
Pictures: One time, free use. For butterfly pictures, please credit Butterfly Conservation (https://butterfly-conservation.org/ ), as well as the photographer identified in each photo's name. Caption: Speckled wood butterflies like the edge of woodlands, although they can also be seen in gardens and hedgerows with dappled shade. For the pine marten picture, credit SNH/Lorne Gill. Caption: Pine martens are another animal seen in North East Scotland, recently spreading eastward to the outskirts of Aberdeen.
Contact information
Name

SNH Media

Email
Notes to editors
NESBReC collates, manages and disseminates data on all types of wildlife in North-East Scotland. It is based in Aberdeen and is part of Aberdeenshire Council. For more information, visit our website at www.nesbrec.org.uk or visit our Facebook page on www.facebook.com/NESBReC/
Scottish Natural Heritage is the government's adviser on all aspects of nature and landscape across Scotland. Our role is to help everyone understand, value and enjoy Scotland's nature now and in the future. For more information, visit our website at www.nature.scot. SNH media is also on Twitter at http://twitter.com/nature_scot
Scottish Natural Heritage is Scotland's nature agency. We work to improve our natural environment in Scotland and inspire everyone to care more about it. We work to ensure that all nature in Scotland - our key habitats and landscapes, all our green space and our native species - is maintained, enhanced and brings us benefits. It is the job of all of us to achieve a balance in the sensitive management of our natural world in order to maintain and enhance biodiversity. For more information, visit our website at www.nature.scot or follow us on Twitter at https://twitter.com/nature_scot
'S e Dualchas Nàdair na h-Alba buidheann nàdair na h-Alba. Tha sinn ag obair airson ar n-àrainneachd nàdarra ann an Alba a thoirt am feabhas agus a h-uile duine a bhrosnachadh gus barrachd cùraim a ghabhail dhi. Gus am bi an nàdar air fad ann an Alba – ar prìomh àrainnean is chruthan-tìre, ar n-àiteachan uaine gu lèir is ar gnèithean dùthchasach - air an gleidheadh, air an leasachadh 's a' toirt bhuannachdan dhuinn. 'S e an dleastanas a th' oirnn uile co-chothrom ann an stiùireadh faiceallach ar saoghail nàdarra a ruighinn airson bith-iomadachd a ghleidheadh 's a leasachadh. Airson an tuilleadh fios, tadhail air an làraich-lìn againn aig www.nature.scot/gaelic no lean air Twitter sinn aig https://twitter.com/nature_scot