14 June, 2019
Nature watching in style comes to Tentsmuir: New education pavilion opened by SNH Chief Executive - WITH PHOTOS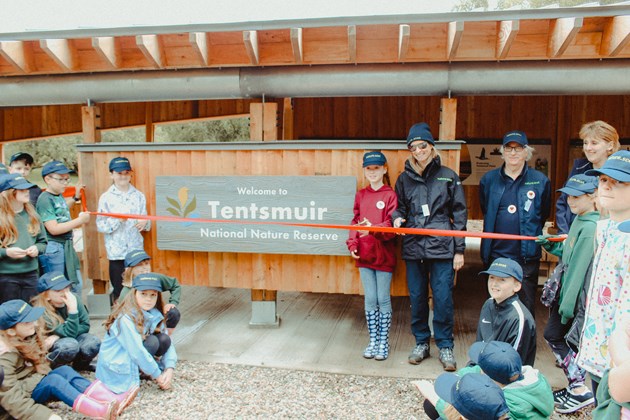 Visitors will be able to take in Tentsmuir national nature reserve's spectacular wildlife in comfort and style, with the opening of a new education and visitor pavilion today by Scottish Natural Heritage (SNH) Chief Executive, Francesca Osowska, and Newport Primary School pupils.
Francesca commented:
"This great new facility will allow everyone to enjoy and learn more about this beautiful nature reserve. Tentsmuir is such a special spot, with beaches, lochs and forests; it's a place where you can see red squirrels, otters, seals, kingfishers, waders and more!
"The stunning pavilion was designed by local architect, Kirsty Maguire, and it's great that we've been able to involve a local business in the design of this fantastic facility. We're really thrilled that this new pavilion will help visitors take more advantage of the reserve, whether it's through education programmes or just having somewhere comfortable to take a break, learn more about the reserve, and enjoy the gorgeous scenery."
The shelter will not only provide a gathering place for schools, but also serve as a focal point for all visitors to Tentsmuir Point to learn about the nature and culture of the reserve.
Tom Cunningham, SNH's reserve manager, added:
"This new, much-needed shelter will be great for introducing visitors to the reserve. Tentsmuir is a perfect place for outdoor learning, but it's an exposed coastal site. This fantastic pavilion will mean that groups can gather here and take sheltered breaks, but still feel as if they're outdoors and connected with this very special landscape and wildlife."
The pavilion showcases information about the seasonal wildlife and nature on this nature reserve, and will bolster the reserve's education programme and outdoor learning programme, seating up to 60 school children. It will also provide shelter for the reserve's many visitors, including groups of students and pupils, volunteers, special needs groups and disabled visitors.
Situated close to the Ice House, one of the main visitor entrances on the reserve, the pavilion is designed to be robust, based on sustainable principles and requiring low maintenance. The pavilion has been jointly funded by SNH and Fife LEADER through the European Agriculture Fund for Rural Development.
Tentsmuir National Nature Reserve (NNR) boasts constantly moving sand at the edge of the sea to the colourful dune heathland. Seals haul themselves out of the water to watch the world go by, while hungry birds fill up on the rich mix of food hidden in the mudflats. Inland, you can discover the hidden gem of Morton Loch and search for birds like the shy teal dabbling at the water's edge and the elusive otter. For more information on the reserve, see https://bit.ly/2BhNsga
-ENDS-

MEDIA QUERIES
For more information, contact the SNH press office on snhmedia@nature.scot or 0131 316 2655.
Contact information
Name

SNH Media

Email
Notes to editors
Tentsmuir is one of about 45 NNRs in Scotland. NNRs are special places that look after some of the best of Scotland's nature on behalf of everyone who lives or visits Scotland, and they provide unique opportunities to visit, enjoy and learn more about Scotland's nature. For more information, see www.nnr-scotland.org.uk.
Local architect, Kirsty Maguire, has an award-winning practice with over 20 years of experience working in eco architecture around the world. Find out more at kirstymaguire.com
Scottish Natural Heritage is Scotland's nature agency. We work to improve our natural environment in Scotland and inspire everyone to care more about it. We work to ensure that all nature in Scotland - our key habitats and landscapes, all our green space and our native species - is maintained, enhanced and brings us benefits. It is the job of all of us to achieve a balance in the sensitive management of our natural world in order to maintain and enhance biodiversity. For more information, visit our website at www.nature.scot or follow us on Twitter at https://twitter.com/nature_scot
'S e Dualchas Nàdair na h-Alba buidheann nàdair na h-Alba. Tha sinn ag obair airson ar n-àrainneachd nàdarra ann an Alba a thoirt am feabhas agus a h-uile duine a bhrosnachadh gus barrachd cùraim a ghabhail dhi. Gus am bi an nàdar air fad ann an Alba – ar prìomh àrainnean is chruthan-tìre, ar n-àiteachan uaine gu lèir is ar gnèithean dùthchasach - air an gleidheadh, air an leasachadh 's a' toirt bhuannachdan dhuinn. 'S e an dleastanas a th' oirnn uile co-chothrom ann an stiùireadh faiceallach ar saoghail nàdarra a ruighinn airson bith-iomadachd a ghleidheadh 's a leasachadh. Airson an tuilleadh fios, tadhail air an làraich-lìn againn aig www.nature.scot/gaelic no lean air Twitter sinn aig https://twitter.com/nature_scot