24 September, 2018
Morton Lochs closed for forestry work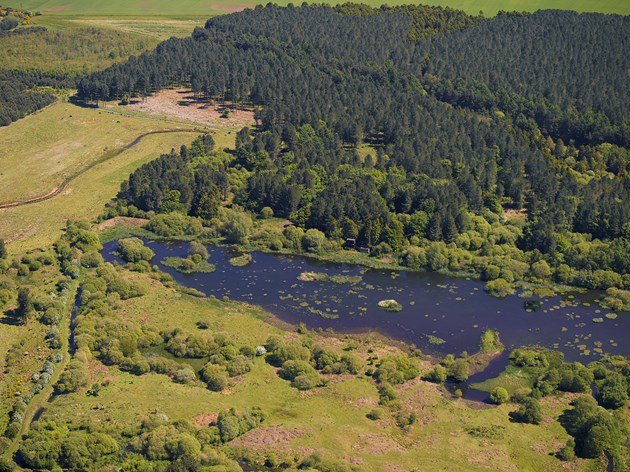 Access to Morton Lochs at Tentsmuir National Nature Reserve in Fife has been closed to all visitors until further notice, following Storm Ali.
The gales last week devastated the Morton Lochs car park, the access road and the surrounding areas.
Tom Cunningham, Scottish Natural Heritage reserve manager explained: "The area is very unsafe because of fallen trees and we're asking everyone, whether on foot, bike, horseback or in a car to take heed of the signs that the road and paths are closed.
"Our contractors are working in the area with chainsaws, tractors and forest cranes to move heavy old tree trunks and brash to disposal sites.
"You can still access Tentsmuir Point from Tayport as well as the Forestry Commission car park at Kinshaldy - for more information please check out our website at http://www.nnr-scotland.org.uk/tentsmuir/visiting/"
Tentsmuir National Nature Reserve boasts constantly moving sand at the edge of the sea to the colourful dune heathland. Seals haul themselves out of the water to watch the world go by, while hungry birds fill up on the rich mix of food hidden in the mudflats.
ENDS
Contact information
Name

SNH Media

Email
Notes to editors
Tentsmuir National Nature Reserve (NNR) is one of about 50 NNRs in Scotland. These are special places which look after and showcase some of the best of Scotland's nature on behalf of everyone who lives or visits Scotland. They provide unique opportunities to visit, enjoy and learn more about Scotland's nature. For more information, see www.nnr-scotland.org.uk.
Scottish Natural Heritage is Scotland's nature agency. We work to improve our natural environment in Scotland and inspire everyone to care more about it. So that all nature in Scotland - our key habitats and landscapes, all our green space and our native species - is maintained, enhanced and brings us benefits. It is the job of all of us to achieve a balance in the sensitive management of our natural world in order to maintain and enhance biodiversity. For more information, visit our website at www.nature.scot or follow us on Twitter at https://twitter.com/nature_scot
'S e Dualchas Nàdair na h-Alba buidheann nàdair na h-Alba. Tha sinn ag obair airson ar n-àrainneachd nàdarra ann an Alba a thoirt am feabhas agus a h-uile duine a bhrosnachadh gus barrachd cùraim a ghabhail dhi. Gus am bi an nàdar air fad ann an Alba – ar prìomh àrainnean is chruthan-tìre, ar n-àiteachan uaine gu lèir is ar gnèithean dùthchasach - air an gleidheadh, air an leasachadh 's a' toirt bhuannachdan dhuinn. 'S e an dleastanas a th' oirnn uile co-chothrom ann an stiùireadh faiceallach ar saoghail nàdarra a ruighinn airson bith-iomadachd a ghleidheadh 's a leasachadh. Airson an tuilleadh fios, tadhail air an làraich-lìn againn aig www.nature.scot/gaelic no lean air Twitter sinn aig https://twitter.com/nature_scot