31 July, 2018
Heading for the Scottish Hills this summer? Check for deer stalking first!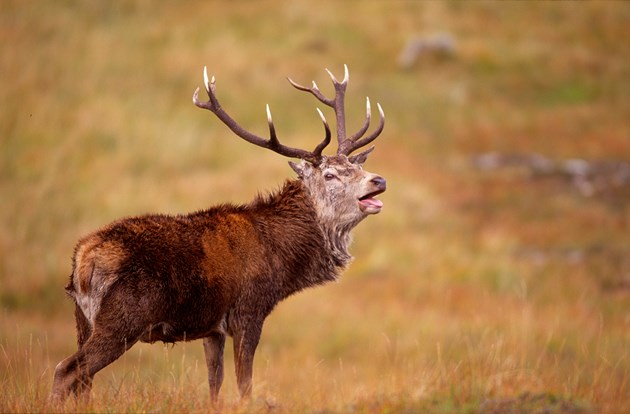 As the weather warms up, the deer stalking season begins. Walkers can make sure they won't disturb stalking by checking the Heading for the Scottish Hills website, a service managed by Scottish Natural Heritage (SNH) to provide details on deer stalking on estates between July and late October.
"Deer stalking takes place when Scottish weather is often at its peak and more people want to get outside and enjoy nature, but it's also a very busy time for land managers. Heading for the Scottish Hills is a quick way for hill walkers to check they won't disturb any stalking," said Fiona Cuninghame, SNH Recreation and Access Officer.
The website helps walkers follow the advice in the Scottish Outdoor Access Code to try and find out where stag stalking is taking place and who to contact if more information is required. It also includes routes that are 'always okay' and the days stalking will take place on each estate.
The Code also encourages walkers to take follow reasonable advice on alternative routes and to avoid crossing land where stalking is taking place.
Fiona added, "Each year we have expanded the service to include more locations, and this year have added a number of popular hills in the west Highlands. We will be adding more information as the estates provide it, so if you're planning a trip and the hills you want to climb aren't included on the site, it's worth taking another look nearer the time."
The information can also be accessed through the Walkhighlands website, with relevant stalking details provided on each walks' page.
Davie Black, Mountaineering Scotland's Access Officer, said, "We have been involved with Heading for the Scottish Hills since it started, and are always happy to see more estates join each year. We encourage all walkers to check the website during the stalking season and contact the relevant estate if they have further questions."
Richard Cooke, Chairman of the Association of Deer Management Groups, said: "The Association of Deer Management Groups has been involved with Heading for the Scottish Hills for more than 20 years, both in its initial book form and now in the online version.
"We would like to see this resource as the 'go to' source of information for people taking recreational access in the Highlands of Scotland and are pleased that an increasing number of Deer Management Groups are signing up. Clearly it is in our members' interests also to make this information available."
Heading for the Scottish Hills was first launched in 2015. The website, which is viewable from mobiles and tablets, can be accessed at: www.outdooraccess-scotland.scot/hftsh
Contact information
Name

SNH Media

Email
Notes to editors
Photo credits:
Red deer stag on knoll ©John MacPherson/SNH
Red Deer stag ©Laurie Campbell/SNH
The web page takes its name from the 'Heading for the Scottish Hills' book, which was a collaboration between landowners and mountaineers, published between 1988 and 1996. For the first time, this book provided hill walkers with an easy way to identify and contact participating estates to find out where stalking was taking place.
Scottish Natural Heritage is Scotland's nature agency. We work to improve our natural environment in Scotland and inspire everyone to care more about it. We work to ensure that all nature in Scotland - our key habitats and landscapes, all our green space and our native species - is maintained, enhanced and brings us benefits. It is the job of all of us to achieve a balance in the sensitive management of our natural world in order to maintain and enhance biodiversity. For more information, visit our website at www.nature.scot or follow us on Twitter at https://twitter.com/nature_scot
'S e Dualchas Nàdair na h-Alba buidheann nàdair na h-Alba. Tha sinn ag obair airson ar n-àrainneachd nàdarra ann an Alba a thoirt am feabhas agus a h-uile duine a bhrosnachadh gus barrachd cùraim a ghabhail dhi. Gus am bi an nàdar air fad ann an Alba – ar prìomh àrainnean is chruthan-tìre, ar n-àiteachan uaine gu lèir is ar gnèithean dùthchasach - air an gleidheadh, air an leasachadh 's a' toirt bhuannachdan dhuinn. 'S e an dleastanas a th' oirnn uile co-chothrom ann an stiùireadh faiceallach ar saoghail nàdarra a ruighinn airson bith-iomadachd a ghleidheadh 's a leasachadh. Airson an tuilleadh fios, tadhail air an làraich-lìn againn aig www.nature.scot/gaelic no lean air Twitter sinn aig https://twitter.com/nature_scot