02 October, 2018
£1million fund brings Scotland's communities closer to nature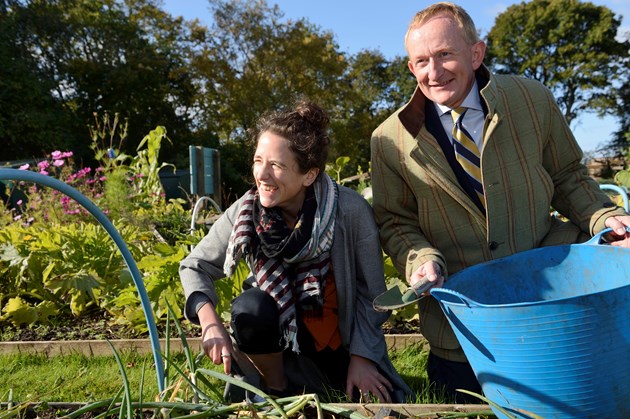 From creating homes for frogs to discovering hidden gardens in our cities, Scottish Natural Heritage (SNH) is awarding almost £1m to projects set to bring local communities closer to nature.
The 11 projects will help communities take an active role in managing their local green spaces and benefit from the improvements in health that come from connecting with the natural world.
Minister for Rural Affairs and the Natural Environment, Mairi Gougeon, today visited the 'Recovery Though Green Infrastructure' project, ran by the Cyrenians at the Royal Edinburgh Hospital - the main hospital for mental health treatment in the Lothian area.
The project is to receive £48k to provide patients and volunteers with more therapeutic opportunities to grow and cook their own food.
Ms Gougeon said: "Through Scottish Natural Heritage, the Scottish Government is proud to support the delivery of the Green Infrastructure Fund, which helps communities to utilise Scotland's natural environment for a huge range of health and social benefits.
"This funding is going towards fantastic projects like the one I'm visiting at the Royal Edinburgh Hospital today, which provides therapeutic community growing and cooking events for patients."
Lucy Holroyd, Cyrenians Gardens Manager said: "We are incredibly grateful for the support from Scottish Natural Heritage as it allows us to provide even more patients in hospital with the opportunity to participate in therapeutic nature-based activities.
"We are incredibly proud of the work we do here, and the amazing volunteers and patients we meet every day. This funding will allow us to continue building meaningful relationships through outdoor activities, improving wellbeing and acting as an additional step in people's recovery."
SNH's Chair, Mike Cantlay added: "We know that living in great places brings huge benefits for physical and mental health. But in some areas, there is little or no opportunity to even access the fundamentals of nature.
"We want our Green Infrastructure Fund to help create beautiful places to live - as well as growing more prosperous communities. Our first exciting range of projects is underway, and this latest funding means we can work with even more communities, helping to spread the benefits of Scotland's nature for generations to come."
Nearly £500k in funding was provided through the ERDF Green Infrastructure Fund, which is led by SNH, with match funding from other organisations bringing the total project value to £1m. The Green Infrastructure Fund is a £40m multi-year investment to improve the environment in underprivileged areas of Scotland's towns and cities.
FUNDING AWARDS
The 11 projects awarded funding from the Green Infrastructure Community Engagement Fund are:
EDINBURGH
Broomhouse Centre – awarded £33k to establish a community market providing volunteering, training and work experience opportunities for local retired and unemployed people.
The Cyrenians – awarded £48k to provide therapeutic community growing and cooking events for patients, staff, visitors, volunteers and community groups at the Royal Edinburgh, Astley Ainslie and Midlothian Community Hospitals.
Royal Botanic Garden Edinburgh – awarded £34k to work with communities along Edinburgh's Shoreline to better understand and share their neighbouring coastal green spaces.
DALKEITH
Newbattle Abbey College – awarded £39k to develop Lord Ancrum's Wood, a woodland site within the college grounds, for education and community engagement.
GLASGOW
Central Scotland Green Network Trust – awarded £33k to help the community of North Cardonald to develop rain gardens in their area. This is a pilot for a planned '10,000 raingardens' campaign.
The Hidden Gardens – awarded £24k to increase awareness of the gardens through a programme of activities that include understanding nature and environment, improving health and well-being and encouraging an interest in art and creativity.
Urban Roots – awarded £48k to link green spaces in the Toryglen area, through volunteering groups to grow food and improve local biodiversity, out of school activities for children and young people, community events and gatherings, and training activities to develop skills and knowledge
CUMBERNAULD
TCV (The Conservation Volunteers) – awarded £24k to encourage people in the town at risk of developing a mental health condition to take an active involvement in using and looking after their green spaces as a way of reducing levels of loneliness and social isolation.
PAISLEY
Froglife – awarded £23.5k to run a volunteer programme to create and restore pond habitats at three sites in the town.
NORTH AYRSHIRE
RSPB – awarded £41k to involve the community in developing self- guided heritage trails, citizen science and wildlife data, habitat improvements and a volunteer hub as part of the Garnock Connections Landscape Initiative.
SEVERAL LOCATIONS
TCV (The Conservation Volunteers) – awarded £35k to stimulate interest in the potential of 'rewilded' local green spaces through events to improve the amenity of those spaces and practical volunteering sessions, for example to improve paths and plant trees and wildflowers. Areas to be covered are Greenock, Clydebank and Yoker.
NOTES TO EDITORS
Scottish Natural Heritage is the government's adviser on all aspects of nature and landscape across Scotland. Our role is to help everyone understand, value and enjoy Scotland's nature now and in the future. For more information, visit our website at www.nature.scot. SNH is also on Twitter at http://twitter.com/nature_scot
The Green Infrastructure Fund is one of the 'Strategic Interventions' included within Scotland's current programme for the European Regional Development Fund (ERDF) 2014-2020 which addresses economic and social imbalances between EU regions. A key priority for ERDF is to reduce economic, environmental and social problems in urban areas.
In 2016, the Green Infrastructure Fund was awarded some £7.5 million under phase 1 of the ERDF programme. This has mainly been used by SNH to support capital works in disadvantaged communities - 3 in Glasgow, 2 in Aberdeen and 1 each in Clydebank and South Lanarkshire. These will be completed in 2019. A phase 2 of a similar sum is planned that will extend the project through until 2023 with the expectation of supporting a further 7 or 8 capital projects.
The Green Infrastructure Community Engagement Fund, for which projects are being announced today, is a smaller fund designed to show best practice in how to involve local people in planning and then managing their green spaces.
Once match funding is added, the overall Green Infrastructure Fund programme – both capital works and community engagement projects - is expected to reach £40m.
Contact information
Name

Emma Keenan

Email
Scottish Natural Heritage is Scotland's nature agency. We work to improve our natural environment in Scotland and inspire everyone to care more about it. We work to ensure that all nature in Scotland - our key habitats and landscapes, all our green space and our native species - is maintained, enhanced and brings us benefits. It is the job of all of us to achieve a balance in the sensitive management of our natural world in order to maintain and enhance biodiversity. For more information, visit our website at www.nature.scot or follow us on Twitter at https://twitter.com/nature_scot
'S e Dualchas Nàdair na h-Alba buidheann nàdair na h-Alba. Tha sinn ag obair airson ar n-àrainneachd nàdarra ann an Alba a thoirt am feabhas agus a h-uile duine a bhrosnachadh gus barrachd cùraim a ghabhail dhi. Gus am bi an nàdar air fad ann an Alba – ar prìomh àrainnean is chruthan-tìre, ar n-àiteachan uaine gu lèir is ar gnèithean dùthchasach - air an gleidheadh, air an leasachadh 's a' toirt bhuannachdan dhuinn. 'S e an dleastanas a th' oirnn uile co-chothrom ann an stiùireadh faiceallach ar saoghail nàdarra a ruighinn airson bith-iomadachd a ghleidheadh 's a leasachadh. Airson an tuilleadh fios, tadhail air an làraich-lìn againn aig www.nature.scot/gaelic no lean air Twitter sinn aig https://twitter.com/nature_scot