26 June, 2018
Free day out for the family at Battleby House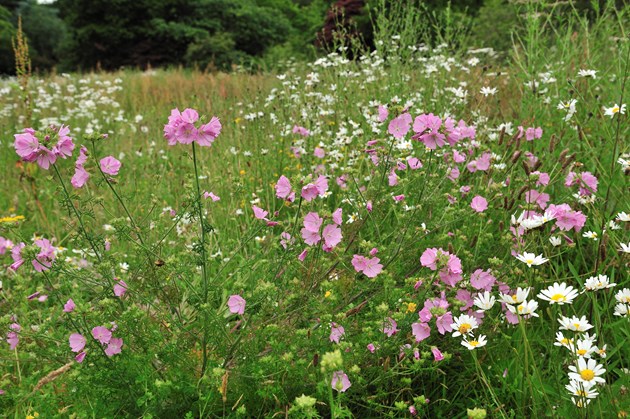 A jam-packed day of activities, free for the whole family, is part of the celebration for National Meadows Day at the Scottish Natural Heritage (SNH) Battleby grounds on Saturday, 7th July, open 11am to 3pm.
Celebrate Meadows Day features something for everyone – from children's games, nature guided walks, wildflower and insect identification, tips on wildlife photography (bring your own camera or phone), build-your-own bat box activities (£5 per box), a scything demonstration, mindfulness/sensory sessions, and much more.
People are encouraged to bring their own picnics and enjoy them on the Battleby grounds.
Public transport is available from Mill Street, Perth (Stop E). (See www.TravelineScotland.com for more information).
Sandra Penman of SNH said:
"The Battleby grounds are a bit of a hidden gem in Perthshire. We'd love people to come out and enjoy the beautiful gardens and woods, take part in all the fun activities, hear some of the history of the house and grounds, and find out more about the work that SNH does. So why not come along on the day, bring a picnic and join in the fun?"
ENDS
MEDIA QUERIES - For more information, contact SNH press & public relations officer, Vicki Mowat on 0131 316 2659 or vicki.mowat@snh.gov.uk (Tues-Fri), or snhmedia@snh.gov.uk or 0131 316 2655 (Mon).
Contact information
Name

SNH Media

Email
Notes to editors
Scottish Natural Heritage is the government's adviser on all aspects of nature and landscape across Scotland. Our role is to help everyone understand, value and enjoy Scotland's nature now and in the future. For more information, visit our website at www.nature.scot. SNH media is also now on Twitter at twitter.com/nature_scot
National Meadows Day, dedicated to celebrating and protecting our vanishing wildflower meadows and the wealth of wildlife they support, will take place on Saturday 7 July 2018.
National Meadows Day events, including wildflower walks, scything workshops, picnics and tai chi, will give people the opportunity to experience first-hand the petalled paradise that is a meadow in summer. Events will take place across the United Kingdom on National Meadows Day.
For National Meadows Day photos, see https://bit.ly/2rT27IB For more images, interviews and additional information, please contact Archie Thomas: archie.thomas@plantlife.org.uk / 07584 995 929
For more information about the events taking place on National Meadows Day, please visit https://bit.ly/297vAKm https://bit.ly/2I0NcHL
Led by Plantlife, the Save Our Magnificent Meadows partnership was made up of 11 organisations and has been primarily funded by the Heritage Lottery Fund. The partnership consisted of the Cotswolds Conservation Board, Medway Valley Countryside Partnership, National Trust Wales, Northumberland Wildlife Trust, Plantlife, RSPB (working in Scotland and Wiltshire), Scottish Wildlife Trust, Somerset Wildlife Trust, Ulster Wildlife, and Wiltshire Wildlife Trust.
On average, five acres of meadow contains about one ton of insects and 40 million predatory invertebrates. Along with herbivores like hares and voles, there are predators, from moles to foxes and curlews to kestrels.
Scottish Natural Heritage is the government's adviser on all aspects of nature and landscape across Scotland. Our role is to help people understand, value and enjoy Scotland's nature now and in the future. For more information, visit our website at
www.nature.scot
or follow us on Twitter at
https://twitter.com/nature_scot
Tha Dualchas Nàdair na h-Alba na buidheann comhairleachaidh dhan riaghaltas a thaobh nàdair agus seallaidhean-tìre air feadh Alba. 'S e an dleastanas a th' againn cuideachadh a thoirt do dhaoine gus tuigse, luach agus tlachd fhaighinn bho nàdar na h-Alba, an-dràsta agus san àm ri teachd. Airson tuilleadh fiosrachaidh, tadhail air www.nature.scot/gaelic no lean sinn air Twitter aig https://twitter.com/nature_scot