15 August, 2018
Discovering why basking sharks come to Scotland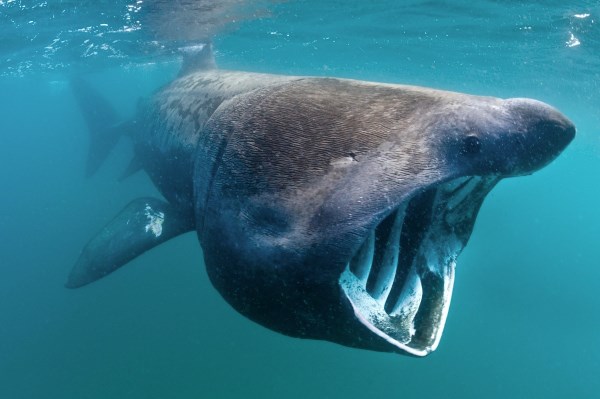 Scientists seeking to discover whether Scotland's seas are a mating ground for basking sharks have gathered new footage showing the sharks being sociable, including a first look at groups forming on the seabed. These data have been gathered by Scottish Natural Heritage (SNH) and the University of Exeter as part of a new camera tagging project which launched earlier this month.
Basking sharks are the second largest fish in the world, reaching lengths up to 10m. Despite their size and prevalence in Scotland's seas, little is understood about their social behaviours.
"A large number of sharks appear each year just off the western coast of Scotland in the Sea of the Hebrides. However, there's been limited research to show exactly what they're doing here: do they come solely to feed on plankton, or are they courting each other and using our coast as a mating ground?" said Dr Suzanne Henderson, Policy and Advice Officer at SNH.
Researchers from SNH and the University of Exeter spent a week off the coast of Tobermory tagging three basking sharks using towed camera tags – the camera tags trail slightly behind the attachment point at the base of the main dorsal fin. It is believed this type of tag has never before been used on basking sharks. The video footage collected by the tags will give scientists a new understanding of basking shark group behaviour.
Dr Henderson continued, "There's very little information about social and mating behaviours in basking sharks, or indeed sharks in general. We've been unsure whether the surface behaviours we see in the Sea of the Hebrides – such as parallel swimming, following nose to tail, or swimming in tight circles – are courtship activities."
Dr Matthew Witt, Senior Lecturer in Natural Environment at the University of Exeter, added, "The footage we've collected gives a fantastic shark's eye view of the environment and new insight into behaviours. We can see sharks very closely aggregating near the seabed, potentially forming social groups. Three sharks are seen very close together, fins touching but hardly swimming. We haven't seen basking sharks exhibit this behaviour at depth, and early in the morning, before."
"The basking shark is a protected species in Scotland, across the UK and in the coastal and offshore waters of many northeast Atlantic countries," said Dr Lucy Hawkes, Senior Lecturer in Physiological Ecology also of the University of Exeter. "But as yet we don't know how human activity might inadvertently affect their behaviour, including mating, and as such this project offers an exciting opportunity to look more deeply into the lives of these large planktivorous sharks. It's also possible that future footage we collect will record basking sharks mating, to our knowledge this would be the first recording of these fish mating."
Data collected by the camera tags will also help inform future consultation processes around designating a Marine Protected Area by identifying why the area is important to the sharks. The researchers hope to return to Tobermory next year to obtain more footage.
Minister for Rural Affairs and the Natural Environment, Mairi Gougeon added, "The study being undertaken by Scottish Natural Heritage and the University of Exeter is an exciting opportunity to build our knowledge of how basking sharks use our seas. In addition to being a world first for the use of these towed camera tags on this species, this work will enhance the evidence base for a basking shark Marine Protected Area proposal which will be consulted on later this year."
SNH and the University of Exeter have been collaborating on basking shark research since 2012. This new research follows a satellite tagging project (2012-2016) which showed for the first time that individual sharks return to the same areas off Scotland's coasts in consecutive summers.
END
Contact information
Name

SNH Media

Email
Notes to editors
For a copy of the footage please email SNHMedia@nature.scot
The camera tags were developed by underwater videography specialist MrROV and maritime design engineers CEiiA. The tags are fitted with satellite relocation technology, which will allow researchers to find and collect the tags after they have automatically detached from the basking sharks.
More information about basking sharks is available on the SNH website here.
SNH Commissioned Report 908: Basking shark satellite tagging project with the University of Exeter is available on the SNH website here.
About the University of Exeter:
The University of Exeter is a Russell Group university that combines world-class research with very high levels of student satisfaction. Exeter has over 21,000 students and is in the top one per cent of universities worldwide. Exeter is also ranked 14th in The Times and The Sunday Times Good University Guide 2018 and 13th in the Guardian University Guide 2018. In the 2014 Research Excellence Framework (REF), the University ranked 16th nationally, with 98% of its research rated as being of international quality, while in 2017, Exeter was awarded a Gold rating in the Teaching Excellence Framework (TEF) assessment. Exeter was named The Times and The Sunday Times Sports University of the Year 2015-16, in recognition of excellence in performance, education and research. Exeter was The Sunday Times University of the Year 2012-13.
Scottish Natural Heritage is Scotland's nature agency. We work to improve our natural environment in Scotland and inspire everyone to care more about it. So that all nature in Scotland - our key habitats and landscapes, all our green space and our native species - is maintained, enhanced and brings us benefits. It is the job of all of us to achieve a balance in the sensitive management of our natural world in order to maintain and enhance biodiversity. For more information, visit our website at www.nature.scot or follow us on Twitter at https://twitter.com/nature_scot
'S e Dualchas Nàdair na h-Alba buidheann nàdair na h-Alba. Tha sinn ag obair airson ar n-àrainneachd nàdarra ann an Alba a thoirt am feabhas agus a h-uile duine a bhrosnachadh gus barrachd cùraim a ghabhail dhi. Gus am bi an nàdar air fad ann an Alba – ar prìomh àrainnean is chruthan-tìre, ar n-àiteachan uaine gu lèir is ar gnèithean dùthchasach - air an gleidheadh, air an leasachadh 's a' toirt bhuannachdan dhuinn. 'S e an dleastanas a th' oirnn uile co-chothrom ann an stiùireadh faiceallach ar saoghail nàdarra a ruighinn airson bith-iomadachd a ghleidheadh 's a leasachadh. Airson an tuilleadh fios, tadhail air an làraich-lìn againn aig www.nature.scot/gaelic no lean air Twitter sinn aig https://twitter.com/nature_scot