02 August, 2019
Dinosaur sites on Skye to be given official protection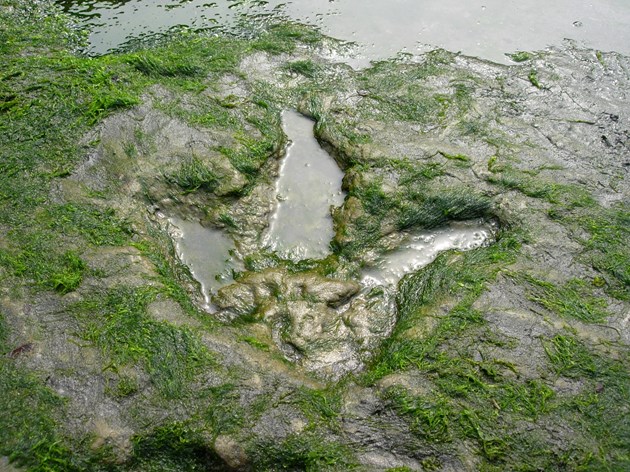 Internationally-recognised Jurassic sites on Skye, containing rare evidence of how dinosaurs and early mammals lived many millions of years ago, have been granted greater vital legal status, to help ensure their protection for future generations.
Minister for Rural Affairs and the Natural Environment, Mairi Gougeon, today signed a Nature Conservation Order (NCO) at Staffin Museum, home of dinosaur bones and footprints found nearby.
The key aim of the NCO is to prevent rare vertebrate fossils from being damaged through irresponsible collection and removal from Skye's globally important fossil sites. Importantly, the NCO aims to encourage local people and the wider public to take an interest in and report any potentially important fossil finds.
In the past, important fossil discoveries have been damaged by hammering, with specimens taken from the island and moved to private collections. In 2016 an attempt to take a plaster cast of a dinosaur footprint at An Corran risked significant damage to a feature that has become an important tourist attraction.
Known as the Dinosaur capital of Scotland, the rich Middle Jurassic fossil fauna of Skye is gradually being revealed with new discoveries continuing to be made. These include some of the first fossil evidence of dinosaur parenting. Housed at Staffin Museum, a rock slab shows the footprints of baby dinosaurs, together with the print of an adult. It is expected that Skye is also home to fossil remains of flying reptiles, and confirmation of this will firmly place the island in the international dinosaur hall of fame.
Minister for the Natural Environment Mairi Gougeon said:
"Skye lays claim to the most significant dinosaur discoveries of Scotland's Jurassic past and this Nature Conservation Order is a vital step in protecting and preserving this important part of our natural heritage for future generations.
"The Order gives extra legal protection to these special sites whilst providing for important artefacts to be collected responsibly for science and public exhibition, as Dugald Ross of the Staffin Museum has been doing since his first important discovery in 1982.
"I hope the Order gives even greater awareness of the significance of these important sites, and the important and valuable role everyone has in helping protect them."
SNH geologist, Colin MacFadyen said:
"This vital extra legal protection is important to ensure Skye's unique dinosaur heritage is available for everyone to learn from and enjoy.
"The NCO covers areas of coastline where 165 million year old Middle Jurassic sedimentary rocks are gradually being eroded by the sea. It is crucial that the footprints and actual skeletal remains of dinosaurs and other vertebrates, that are being revealed by nature are protected. These fabulous fossil finds can help answer crucial questions about ancient ecosystems and pave the way for exciting advances in our understanding of vertebrate evolution."
Staffin Museum owner Dugald Ross said:
"Everyone has a role to play in making the Order a success, and we are encouraging local people who think they may have found a vertebrate fossil – or a dinosaur bone or tooth - to contact Staffin Museum for advice. We are encouraging everyone to find, report and help protect - but not collect - Skye's wonderful dinosaur heritage.
Contact information
Name

Cat Synnot

Email
Notes to editors
In areas affected by the NCO vertebrate fossils may not be collected, and the public and amateur collectors are being encouraged to contact the police if they witness attempts to remove rock or fossil remains particularly if it involves equipment such as rock saws, crowbars and sledgehammers.
The public, by following the Scottish Fossil Code can still collect easier to find fossil remains of marine Jurassic fossils such as ammonites, lying loose on the beaches of Skye.
The NCO will cover the Skye sites of An Corran, Duntulm Lob Score, Valtos, Elgol and Bearreraig Bay. SNH has consulted landowners, palaeontological research scientists, Police Scotland and the local community, via Community Councils and the Staffin Trust, on the Order, and invited public comment through local media. News of the proposal has also been covered in the national press. To date no concerns have been raised.
Further details on NCOs can be accessed via this link: https://www.nature.scot/professional-advice/safeguarding-protected-areas-and-species/protected-areas/conservation-orders/nature-conservation-order
Further details on the Scottish Fossil Code can be accessed via this link: https://www.nature.scot/landforms-and-geology/protecting-our-geodiversity/codes-researchers-and-collectors/scottish-fossil-code
The fossil remains of dinosaurs on Skye were first identified in 1984. Since then there has been a steady stream of discovery of rare trace fossils (tracks and/or individual footprints) and associated vertebrate 'body' fossils (such as bones and teeth). Trace and body fossils of both carnivorous and herbivorous dinosaurs have been found. Recent discoveries include some of the first fossil evidence of parenting in dinosaurs and the remains of flying reptile (pterosaurs). Incredibly rare mammalian fossils at Elgol represent another aspect of Skye's Middle Jurassic vertebrate fossil heritage.
Scottish Natural Heritage is Scotland's nature agency. We work to improve our natural environment in Scotland and inspire everyone to care more about it. So that all nature in Scotland - our key habitats and landscapes, all our green space and our native species - is maintained, enhanced and brings us benefits. It is the job of all of us to achieve a balance in the sensitive management of our natural world in order to maintain and enhance biodiversity. For more information, visit our website at www.nature.scot or follow us on Twitter at https://twitter.com/nature_scot
'S e Dualchas Nàdair na h-Alba buidheann nàdair na h-Alba. Tha sinn ag obair airson ar n-àrainneachd nàdarra ann an Alba a thoirt am feabhas agus a h-uile duine a bhrosnachadh gus barrachd cùraim a ghabhail dhi. Gus am bi an nàdar air fad ann an Alba – ar prìomh àrainnean is chruthan-tìre, ar n-àiteachan uaine gu lèir is ar gnèithean dùthchasach - air an gleidheadh, air an leasachadh 's a' toirt bhuannachdan dhuinn. 'S e an dleastanas a th' oirnn uile co-chothrom ann an stiùireadh faiceallach ar saoghail nàdarra a ruighinn airson bith-iomadachd a ghleidheadh 's a leasachadh. Airson an tuilleadh fios, tadhail air an làraich-lìn againn aig www.nature.scot/gaelic no lean air Twitter sinn aig https://twitter.com/nature_scot