02 August, 2019
D&G biodiversity projects share £189k Nature fund cash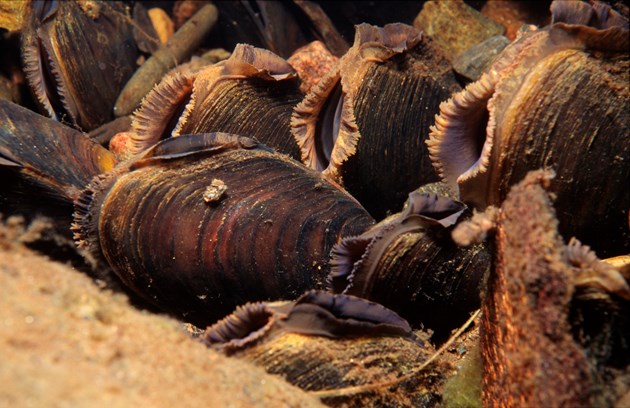 Two nature projects will share £189,000 to help save one of Scotland's most endangered animals and restore an almost vanished habitat at sites in Dumfries & Galloway. The projects are among the recipients of Scottish Natural Heritage's (SNH's) Biodiversity Challenge Fund.
Freshwater pearl mussel populations in the River Bladnoch Special Area of Conservation (SAC) will benefit from more than £35 of £120k awarded to a partnership of Fisheries Trusts: and the Borders Forest Trust has been given almost £70k to restore a vanishing habitat to the wild heart of southern Scotland.
Scotland holds many of the world's most important populations of freshwater pearl mussels. However, the species is extremely rare in Scotland, mainly due to poor water quality, habitat damage and ongoing, illegal pearl fishing, Police Scotland run proactive operations against illegal fishers and SNH strongly encourages anyone who believes they have witnessed wildlife crime to contact the police as soon as possible.
The River Bladnoch catchment in Dumfries & Galloway supports our most southerly reproducing population of this critically endangered species – but it is small and very fragile. The Galloway Fisheries Trust will carry out work to improve conditions for the mussels in its tributaries, one of three sites covered by the project; the other two are in the Highlands. Work will include planting more than 1700 native trees along a 9km stretch of bank; 1.4km of fencing will be installed to exclude grazing livestock; and boulders added to improve flow conditions and instream habitat.
Montane scrub is a rare habitat found just above the treeline on hills, supporting a range of unusual plants and invertebrates and providing important feeding areas for birds and mammals. In Scotland the habitat has been severely impacted by grazing deer and sheep.
The Borders Forest Trust will restore 50 hectares of montane scrub across three sites in the Moffat Hills SAC, straddling Dumfries & Galloway and the Scottish Borders. With help from a small army of volunteers, 20,000 trees and shrubs will be planted and protected, with an additional 200 bearberry plants helping to restore upland heath habitat at Carrifran Wildwood.
Nicola Hunt, Borders Forest Trust's Woodland Habitats Projects Manager, said: "We're delighted that SNH has awarded this funding to our project. The Trust has a long track record of delivering high quality nature projects in this special part of southern Scotland. With the help of our fantastic volunteers, this new work will provide further significant long term benefits for the area's biodiversity and also help combat climate change. If you'd like to get involved in the planting work please do get in touch."
Along with climate change, nature – and biodiversity loss – is also a global and generational threat to human well-being. However, enhancing our nature is also recognised as being part of the solution to the climate emergency.
These projects are two of 14 successful applicants across Scotland to share the £1.8 million Biodiversity Challenge Fund over a two-year period The funding will support large-scale projects that aim to deliver rapid change on the ground to help our most at-risk habitats and species, including mammals and birds, connect existing nature reserves and tackle non-native invasive species.
Minister for Rural Affairs and the Natural Environment, Mairi Gougeon, announced the awards on a visit to one of the successful projects in Edinburgh. She said: "I am delighted that, through the Biodiversity Challenge Fund, the Scottish Government and SNH can support these fantastic projects across the country to safeguard some of our most vulnerable species and habitats, and protect them from invasive species. Their success will play a crucial role in our efforts to improve nature and help Scotland meet its international biodiversity commitments."
SNH Chief Executive, Francesca Osowska, said: "Climate change is one of the key drivers of nature loss – but it's not too late to act. In fact, improving nature is also one of the solutions to the climate emergency.
"There are five areas we need to focus on to improve biodiversity – restoring our habitats, changing our use of the land and sea, reducing pollution and climate change and tackling invasive non-native species. These projects will improve nature across Scotland for all our benefit.
"We know we have a big task before us but we have been working for years with our partners to meet international nature targets. We are ready to deliver the transformational change needed to bring a nature rich future for Scotland."
Ends
Contact information
Name

SNH Media

Email
Notes to editors
The Biodiversity Challenge Fund: The aim of the Biodiversity Challenge Fund is to enable targeted action for priority habitats and species, accelerating efforts that will help Scotland meet its international biodiversity commitments.
Fulfilling a commitment in the Programme for Government, SNH will administer investments of around £1.8 million over the next 2 years on creating and improving habitats for key species and encouraging increased access to nature.
The fund is supporting projects that are:
Ideally large in scale and will make a demonstrable impact
Seek to address the drivers of biodiversity change and action preferable focused on causes rather than symptoms
Make connections on the ground and link actions and/ or projects, increasing resilience in those habitats most at risk.

LIST OF PROJECTS
Applicant

Project Title

Location

Local authority

Buglife Scotland

Central

Scotland B-Lines

Central Scotland

Falkirk / Edinburgh / East Dunbartonshire

/ South Lanarkshire

Trees for Life

Carn na Caorach Montane Woodland Enclosure

Highland

Highland

RSPB Scotland

Curlews in Crisis Scotland

Caithness and East Ayrshire

Highland / East Ayrshire

Borders Forest Trust

Restoring Montane Scrub and Bearberry in the Wildheart of Southern Scotland

Borders

Scottish Borders / Dumfries & Galloway

St Andrews Botanic Garden

St Andrews Green Corridors

Fife

Fife

Edinburgh and Lothians Greenspace Trust

Little France Park

Lothian

City of Edinburgh

Glasgow City Council (on behalf of the Seven Lochs Partnership)

Seven Lochs and Cumbernauld SpRiNT

Glasgow City

Glasgow City / North Lanarkshire

The Froglife Trust

Come Forth for Wildlife

Falkirk

Falkirk

Scottish Canals

Greening Pinkston Basin

Glasgow

Glasgow City

Dee Catchment Partnership

Easter Beltie Restoration Project

Aberdeenshire

Aberdeenshire

Kyle of Sutherland Fisheries Trust

Partnership working to enhance three key freshwater pearl mussel populations in the north, south and west of Scotland.

Across Scotland

Dumfries & Galloway / Argyll & Bute / Highland

Dee District Salmon Fishery Board

Dee Riparian Habitat Project

Rivers Dee & Don

Aberdeenshire

Tweed Forum

Tweed Invasives Project

River Tweed

Scottish Borders

Royal Botanic Garden Edinburgh

Edinburgh Shoreline – The Wild Line

Lothian

City of Edinburgh / East Lothian
Scottish Natural Heritage is Scotland's nature agency. We work to improve our natural environment in Scotland and inspire everyone to care more about it. So that all nature in Scotland - our key habitats and landscapes, all our green space and our native species - is maintained, enhanced and brings us benefits. It is the job of all of us to achieve a balance in the sensitive management of our natural world in order to maintain and enhance biodiversity. For more information, visit our website at www.nature.scot or follow us on Twitter at https://twitter.com/nature_scot
'S e Dualchas Nàdair na h-Alba buidheann nàdair na h-Alba. Tha sinn ag obair airson ar n-àrainneachd nàdarra ann an Alba a thoirt am feabhas agus a h-uile duine a bhrosnachadh gus barrachd cùraim a ghabhail dhi. Gus am bi an nàdar air fad ann an Alba – ar prìomh àrainnean is chruthan-tìre, ar n-àiteachan uaine gu lèir is ar gnèithean dùthchasach - air an gleidheadh, air an leasachadh 's a' toirt bhuannachdan dhuinn. 'S e an dleastanas a th' oirnn uile co-chothrom ann an stiùireadh faiceallach ar saoghail nàdarra a ruighinn airson bith-iomadachd a ghleidheadh 's a leasachadh. Airson an tuilleadh fios, tadhail air an làraich-lìn againn aig www.nature.scot/gaelic no lean air Twitter sinn aig https://twitter.com/nature_scot