01 July, 2020
Could you help stop mink in their tracks?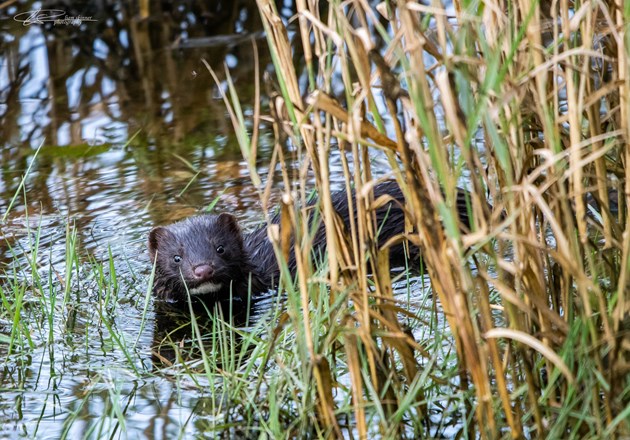 A major project working across the Highlands, the Scottish Invasive Species Initiative, is looking for people to get involved in work to help remove American mink from the countryside.
The invasive American mink was brought to Scotland for fur-farming in 1938 and, as a consequence of both escapes and deliberate releases, became established in the wild in the 1960s. Mink are opportunistic and ferocious hunters taking whatever prey is available to them - often killing more than they require for food at that time. Their presence in the countryside has a devastating effect on native Scottish wildlife, particularly ground nesting birds and water vole populations.
Dr. Lorna Brown, from the Skye and Wester Ross Fishery Trust, said: "We monitor for mink presence across Wester Ross using a network of mink rafts which are looked after by volunteers. We already have a great volunteer team running rafts for us, but we have gaps in the network we'd like to fill - in particular, we'd love more help on the mainland in the Lochalsh and Ullapool areas. So if anyone living in Kyle, Plockton, Dornie, Glenelg, Applecross and Ullapool areas is interested in getting involved they should get in touch for more information."
Monitoring a mink raft requires no previous experience and is easy to do. The local team provide all equipment, full training at the start, will help set the raft up and are always contactable if you need help or advice. All training and activities are carried out in accordance with the current Scottish Government and NHS coronavirus guidance. The raft contains a clay pad hidden inside a tunnel and the tell-tale sign of mink presence is when they leave their footprints in the clay as they explore inside the tunnel. Once a raft is set up the volunteer just needs to check it for footprints every couple of weeks. If mink are detected a live-capture trap is set and the mink caught before being humanely despatched by the local team.
Callum Sinclair, Project Manager for the Scottish Invasive Species Initiative, said: "Our project is working at a large-scale across much of northern Scotland and that means we are monitoring for mink across many river catchments, but this is only effective if we have a comprehensive network of monitoring rafts. We still have gaps in our coverage and so are always on the look-out for volunteers to adopt mink rafts and traps in specific key areas. The success of our mink control work hangs on the support and dedication of our network of volunteers helping monitor for mink presence and support their removal."
The Scottish Invasive Species Initiative is using established scientific methodology and information to target its work. Central to this is the University of Aberdeen who, as an academic partner, provides expert scientific knowledge and advice to inform the establishment of the raft network and undertake further research into mink predator and prey dynamics and impacts.
Professor Xavier Lambin, from the University of Aberdeen School of Biological Sciences, said: "The American mink is an opportunistic predator which is also a very effective coloniser of new areas. Mink can travel large distances to take up new territories (25% will travel 80km to take up a territory) and so control needs to be on a large scale to protect cleared areas from re-colonisation. From our previous work in Scotland we have gathered good information on mink behaviours, the most likely locations for breeding females and where the most suitable mink habitats lie. With that knowledge we can target efforts to these areas to have maximum impact on mink numbers and consequently deliver maximum benefits for native wildlife."
Anyone interested in getting involved or who would like more information should contact Skye and Wester Ross Fisheries Fishery Trust biologist Lorna Brown on education@swrft.org.uk or 077544 88718.
To find out more about the Scottish Invasive Species Initiative or volunteering with the wider project visit www.invasivespecies.scot , follow on social media or contact the team on sisi@nature.scot
ENDS
Media enquiries: contact Vicky Hilton, SISI Volunteer and Communication Officer, on 07340 373211.
Contact information
Name

SNH Media

Email
Scottish Natural Heritage is Scotland's nature agency. We work to improve our natural environment in Scotland and inspire everyone to care more about it. We work to ensure that all nature in Scotland - our key habitats and landscapes, all our green space and our native species - is maintained, enhanced and brings us benefits. It is the job of all of us to achieve a balance in the sensitive management of our natural world in order to maintain and enhance biodiversity. For more information, visit our website at www.nature.scot or follow us on Twitter at https://twitter.com/nature_scot
'S e Dualchas Nàdair na h-Alba buidheann nàdair na h-Alba. Tha sinn ag obair airson ar n-àrainneachd nàdarra ann an Alba a thoirt am feabhas agus a h-uile duine a bhrosnachadh gus barrachd cùraim a ghabhail dhi. Gus am bi an nàdar air fad ann an Alba – ar prìomh àrainnean is chruthan-tìre, ar n-àiteachan uaine gu lèir is ar gnèithean dùthchasach - air an gleidheadh, air an leasachadh 's a' toirt bhuannachdan dhuinn. 'S e an dleastanas a th' oirnn uile co-chothrom ann an stiùireadh faiceallach ar saoghail nàdarra a ruighinn airson bith-iomadachd a ghleidheadh 's a leasachadh. Airson an tuilleadh fios, tadhail air an làraich-lìn againn aig www.nature.scot/gaelic no lean air Twitter sinn aig https://twitter.com/nature_scot