19 July, 2018
Chris Packham's UK Bioblitz Campaign Visits Flanders Moss National Nature Reserve Investigating the State of Our Nation's Wildlife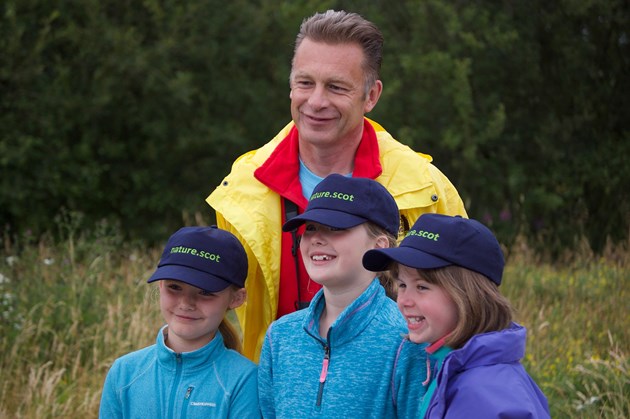 Nature reserves are not enough!
This morning (15nd July 2018) TV presenter and naturalist Chris Packham paid an early morning visit to Flanders Moss National Nature Reserve, as part of the first independent audit of its kind in the UK. His goal is to investigate the extent to which the nation's wildlife species are under threat and to meet and raise money for the local projects working on the conservation of wildlife habitats. Chris started in the Scottish Highlands on 14th July and is spending a fast paced ten days travelling with his team across Northern Ireland, Wales and parts of England.
Chris was met by a large group of volunteers and shown around Flanders Moss by the three young 'Mossaholics' – primary 5 pupils Shona, Niamh and Deia from Thornhill Primary School and Reserve Manager David Pickett. The girls introduced Chris to a tiny soprano pipistrelle bat and showed him the adder hibernaculum that they had helped to build while volunteering at the reserve with their school. The BioBlitz team also met a team counting dragonflies and learned about the importance of sphagnum moss to the ecosystem of reserve.
Chris explained why he was visiting sites across the UK for the BioBlitz:
'I need to see it for myself. I need to meet the people with their fingers on the pulse of our wildlife the length and breadth of the UK, those unsung heroes, the great British naturalists who know their stuff and are making a difference. I need to get a complete first-hand experience of the natural health of the UK. I'm excited and terrified at the same time. I love learning and seeing new places and species but I fear that I will also bear witness to a landscape in huge trouble. I want to spread an awareness of the successes and failures and to raise some money to help combat the latter. And to encourage people, particularly young people to come out and see the beauty for themselves - to touch it, smell it, feel it. If just one youngster learns to love life then it will all be worthwhile. This is not a 'last chance see' this is a big chance to make a difference before it's too late.'
David Picket, Reserves Manager, Flanders Moss NNR for Scottish Natural Heritage said:
"We were delighted to host Chris and team here at Flanders Moss to meet the volunteers and hear about the vital work they do to help us restore the bog. To have this important National Nature Reserve included in the research work being carried out by the BioBlitz team is fantastic. Flanders moss is a vast expanse of all things damp and wonderful. As one of the largest remaining intact raised bogs in Britain, it is a wild and ancient landscape, so ideal for Chris' BioBlitz."
Flanders Moss National Nature Reserve will be one of the beneficiaries of the fundraising and you can support them by donating here: https://www.justgiving.com/crowdfunding/chris-packham-bioblitz
The UK Bioblitz team includes 100's of experts, species specialists, young conservationists and film makers all working together to highlight the state of our wildlife and the need for urgent centralised action to ensure we have wildlife everywhere. Nature reserves are not enough.
Visit www.nature.scot/enjoying-outdoors/places-visit/scotlands-national-nature-reserves/flanders-moss-national-nature-reserve for more information.
Visit www.chrispackham.co.uk to follow the Bioblitz
Join the Facebook Event: https://www.facebook.com/events/221259578624823/
Follow Chris on Twitter: https://twitter.com/ChrisGPackham?lang=en
ENDS
SNH Contact: SNHmedia@nature.scot or call 0131 316 2655.
BioBlitz team: Please contact michelle@dfmanagement.tv
Contact information
Name

SNH Media

Email
Notes to editors
Photos of Chris Packham touring the Reserve with Shona, Niamh and Deia - credit Scottish Natural Heritage.
About Chris Packham:
Chris Packham is a well-known UK television presenter, naturalist, award winning photographer, author and conservationist.
Chris is recognised for his work in television broadcasting notably he presented the BAFTA-winning BBC1 children's programme The Really Wild Show and nature photography series Wild Shots on Channel 4. He also wrote and presented the BBC One series The X Creatures and BBC Two's Hands on Nature and Nature's Calendar. Other television series included Go Wild (Live) and Travel UK for Central Television, Nature's Detectives (BBC), Really Wild Guide (BBC2) The Good Sex Guide Series III and The Great Dinosaur Trail, Watchout Series II and III as lead presenter, Animal Zone (BBC2), Postcards from the Wild and An Evening with Chris Packham for Discovery Animal Planet.
Chris is renowned for his lead role on the BBC2 Springwatch series. In 2017 Chris co-presented Earth Live on Natgeo Wild. His award winning documentary 'Chris Packham: Asperger's and Me', was the winner of the Broadcasting Press Guild Award 2018 for Best Single Documentary and nominated in two categories for a BAFTA award. He presented BBC2's The Real T-Rex, and 'Chris Packham: In search of The Lost Girl', highlighting the impact of the use of palm oil by the Western world on our rainforests.
Chris became the Ambassador for the National Autistic Society in 2017.
Chris's book "Fingers in the Sparkle Jar" was voted the UK's favourite nature book in a 2018 poll carried out by the Arts and Humanities Research Council.
About Chris Packham's UK Bioblitz Campaign 2018:
A bioblitz is an intensive field study over a set period of time to record all the living species within a designated area. Participants include groups of scientists, naturalists and volunteers.
Data collection: Data collected from the UK Bioblitz Campaign will contribute to biological recording in the UK, so is essential for research purposes. It will be made available for each site to further their development, funding applications and wider discovery of the habitats and species they're conserving. Many taking part will never have had such in-depth surveying on their site making this aspect of the campaign doubly important.
Why Nature Reserves are not enough: Chris Packham's UK Bioblitz Campaign will champion front-line conservation in action, the people who make a huge difference to the species and habitats they support. As well as recognised conservation sites, Chris Packham will be highlighting that "nature reserves are not enough" by featuring for example; community projects, volunteer initiatives, developments and local council action plans. The campaign will be documenting their stories to demonstrate how we can all make a space for nature and give wildlife a significant boost.
Fund raising: Sponsorship for Chris Packham's species count during the UK Bioblitz Campaign can be made via Just Giving (https://www.justgiving.com/crowdfunding/chris-packham-bioblitz)
All the money raised will be distributed back to the front-line conservationists, projects, initiatives and voluntary groups via invited wish-lists, thus directly supporting those whom need it most. The campaign will also be donating to Autism and Asperger's research, enabling people to realise their worth.
Carbon neutral tour: Miles covered using our Campaign vehicles will be calculated and carbon offset.
Scottish Natural Heritage is Scotland's nature agency. We work to improve our natural environment in Scotland and inspire everyone to care more about it. So that all nature in Scotland - our key habitats and landscapes, all our green space and our native species - is maintained, enhanced and brings us benefits. It is the job of all of us to achieve a balance in the sensitive management of our natural world in order to maintain and enhance biodiversity. For more information, visit our website at www.nature.scot or follow us on Twitter at https://twitter.com/nature_scot
'S e Dualchas Nàdair na h-Alba buidheann nàdair na h-Alba. Tha sinn ag obair airson ar n-àrainneachd nàdarra ann an Alba a thoirt am feabhas agus a h-uile duine a bhrosnachadh gus barrachd cùraim a ghabhail dhi. Gus am bi an nàdar air fad ann an Alba – ar prìomh àrainnean is chruthan-tìre, ar n-àiteachan uaine gu lèir is ar gnèithean dùthchasach - air an gleidheadh, air an leasachadh 's a' toirt bhuannachdan dhuinn. 'S e an dleastanas a th' oirnn uile co-chothrom ann an stiùireadh faiceallach ar saoghail nàdarra a ruighinn airson bith-iomadachd a ghleidheadh 's a leasachadh. Airson an tuilleadh fios, tadhail air an làraich-lìn againn aig www.nature.scot/gaelic no lean air Twitter sinn aig https://twitter.com/nature_scot