12 February, 2019
Choose an alternative to roses for Valentine's Day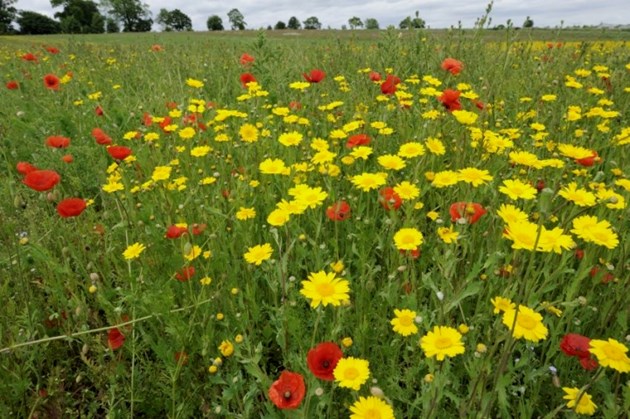 Cut flowers are a firm favourite when it comes to Valentine's Day gifts but this year Scottish Natural Heritage (SNH) encouraging romantics to keep nature in the day but choose gifts that won't wilt in a week and can help your local wildlife too.
With Valentine's Day just around the corner and romance in the air, many of us turn to the florists to find the perfect token of our love, but why not avoid the cliché and opt for a floral gift that will last a bit longer and benefit nature at the same time? The popular choice of a dozen red roses boosts flower imports every February but a great romantic gift doesn't have to come with a heavy carbon footprint. Try one of these ideas this Valentine's Day - your local nature might even thank you.
Potted plant or window planter
Swap the cut flowers for a potted plant to extend the life of your romantic gift. Even the smallest gardens can be brightened by a well-chosen container and why not add to your gift by seeking out a butterfly-friendly shrub or insect-friendly plant to encourage nature to thrive. For containers, cosmos, lavender and bluebells will all help attract pollinators, while perennial plants that could add some romantic flare to a window box include aubrietia and trailing verbena.
Herb garden
Herbs can be great for adding a little flavour to your favourite dishes so why not try growing your own? If left to flower, herbs are also great food sources for bees, hoverflies and moths, to name a few, so pop your tub in the garden or on a window space to help these vital pollinators this coming spring. Try a selection to attract a variety of bees such as garden bumblebees and buff-tailed bumblebees. Plants such as chives, thyme, sage, starflower and mint are great all-rounders suitable for attracting a whole range of bees, and can add a lovely array of scents to your window box.
Native wildflower seed
Why give a single rose when you can create a whole meadow for your Valentine? Gift some native wildflower seeds and sow from March to create a wildflower area of your garden that could provide beautiful colours and food for pollinator species throughout the summer. Look for mixes containing devil's bit scabious, ox-eye daisy and red campion to encourage a whole host of pollinators; from bees and butterflies to moths and hoverflies, later in the year. Don't forget that wildflower seed are also suitable for smaller areas and containers too so are perfect for a balcony flower box or doorstep plant pot too.
Terrarium
If you're tight on space why not gift a garden in miniature to your loved one? Terrariums became popular during the Victoria era but are still a unique way to include nature in your Valentine's Day today. These small glass boxes filled with plants, can create a self-regulating ecosystem and can be a great plant-based addition to a home short on outdoor space. For an extra token of love why not skip the shop-bought options and get creative building your own! Add your own unique touch by including "air plants" - which absorb their water and nutrients from the air, mosses or mini ferns.
Bulbs
While February might seem too early for bulbs, there are several options that can be planted at this time of year. Give your sweet a gift of a beautiful spring and summer garden with a heart of bulbs – lilies, liatris or gladioli are all suitable for February planting to produce colour blooms later in the year. Don't want to wait? Get the best of both worlds by gifting a pot of snow drops or early flowering daffodils for a splash of Valentine's colour then plant out in the garden so your tokens of love can blossom year-on-year! If you've got a bit of time, crocus, native bluebells or allium bulbs are all great for native wildlife but remember to store in a cool dry place until planting in autumn ready for a spring bloom the following year.
Fruit bush or tree
Show someone they are the apple of your eye with a little apple sapling or that you make a perfect pair with a native pear tree. As well as being a beautiful and long lasting natural gift, fruit trees and shrubs are perhaps the perfect gift for the fruit lover in your life with blackcurrant, blueberry or gooseberry bushes top gifts for jam enthusiasts. Plus, if you don't mind sharing the love, garden fruits make welcome snacks for garden birds, foxes or badgers.
"Flowers are a lovely, traditional way to celebrate your love for someone, but cut flowers don't last very long. Why not choose an outdoor option? A container with nectar-rich flowers or some pollinator-friendly herbs are good ways to help our vital pollinating insects over a longer period of time." Jim Jeffrey, Scotland's Pollinator Strategy
And for those that are hopeless at gardening, never fear, why not experience nature in its "natural habitat". A romantic walk at one of our National Nature Reserves with your Valentine will bring lasting nature memories too. While it might be winter, there are still plenty of things to see on our reserves including the start of snowdrops and primroses peeping through and plenty of wildlife too. Find your nearest reserve and more about what's on offer this season at www.nnr.scot.
Contact information
Name

SNH Media

Email
Scottish Natural Heritage is Scotland's nature agency. We work to improve our natural environment in Scotland and inspire everyone to care more about it. So that all nature in Scotland - our key habitats and landscapes, all our green space and our native species - is maintained, enhanced and brings us benefits. It is the job of all of us to achieve a balance in the sensitive management of our natural world in order to maintain and enhance biodiversity. For more information, visit our website at www.nature.scot or follow us on Twitter at https://twitter.com/nature_scot
'S e Dualchas Nàdair na h-Alba buidheann nàdair na h-Alba. Tha sinn ag obair airson ar n-àrainneachd nàdarra ann an Alba a thoirt am feabhas agus a h-uile duine a bhrosnachadh gus barrachd cùraim a ghabhail dhi. Gus am bi an nàdar air fad ann an Alba – ar prìomh àrainnean is chruthan-tìre, ar n-àiteachan uaine gu lèir is ar gnèithean dùthchasach - air an gleidheadh, air an leasachadh 's a' toirt bhuannachdan dhuinn. 'S e an dleastanas a th' oirnn uile co-chothrom ann an stiùireadh faiceallach ar saoghail nàdarra a ruighinn airson bith-iomadachd a ghleidheadh 's a leasachadh. Airson an tuilleadh fios, tadhail air an làraich-lìn againn aig www.nature.scot/gaelic no lean air Twitter sinn aig https://twitter.com/nature_scot