12 October, 2018
CEO's 1300-mile epic cycle concludes in Inverness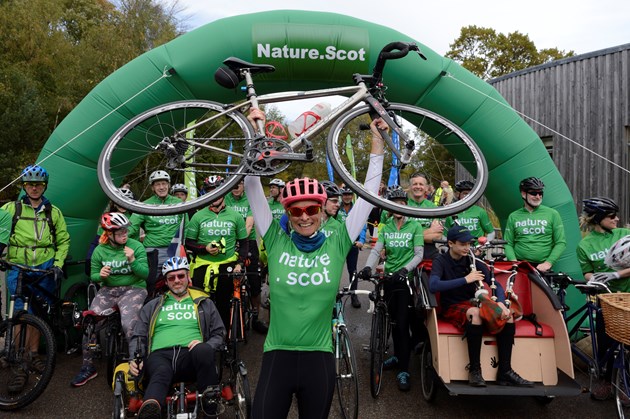 Francesca Osowska, CEO of Scottish Natural Heritage (SNH), today completed an epic 1300-mile cycle journey around Scotland, inspiring staff and the public to get active in Scotland's beautiful nature and improve both their mental and physical health.
Francesca's final leg began on Monday in Shetland, headed to Orkney, Caithness and Sutherland. It ended today in Inverness at SNH's headquarters, Great Glen House, for a celebration with staff and partners.
Partner organisations, including Scottish Action on Mental Health (SAMH), joined the celebrations, with music by Feis Rois, and Pony Axe S rides – designed to help people in wheelchairs enjoy nature – for Drummond School pupils. The event was rounded off with a talk by Marcus Stitz, the first person to cycle around the world on a single-speed bike in 2016 and founder of Bikepacking Scotland.
Taking place over 32 days in seven legs, Francesca's long journey began in March this year, and has wound its way all around Scotland, taking in 39 SNH offices including 13 national nature reserves. Francesca met as many of SNH's 723 staff as she could, to experience hands-on the places and projects doing key work to protect the natural environment in Scotland and help people connect to nature.
Francesca said, "This journey has been a real eye-opener for me during my first year with SNH. I've seen so many of our stunning natural sights along the way, with a few adventures thrown in as well! From a pair of sea eagles in Stornoway to a seal encounter in Shetland to lacewigs at St Cyrus nature reserve, it's been 1300 miles to remember. I've also met so many of SNH's staff and got a real feel for the breadth of work that we carry out throughout Scotland.
"It's so important to connect with nature – getting out in the countryside is invaluable for both your mental and physical health. It's essential to help me cope with stress and to keep myself healthy and happy. I hope my trip is a reminder to others that getting on a bike or taking a walk in one of Scotland's many beautiful places can make all the difference in how you feel, how you cope and how you keep fit."
Throughout her cycle, Francesca has been blogging and tweeting with the aim of encouraging people to be active in nature using the hashtag #cyclefornature. She also raised funds for the Scottish Association for Mental Health (SAMH) through a Just Giving page, a charity voted on by SNH staff.
SAMH Chief Executive, Billy Watson, said, "Our sincere thanks to Francesca for choosing to raise money for SAMH during her cycle around Scotland. Her epic journey to bring together the SNH staff team is a great example of promoting a physically and mentally healthy workplace. On behalf of all of us at SAMH, we wish Francesca well and send many congratulations as she cycles the last leg of Cycle for Nature."
Francesca's schedule for this week included visits to the Hoswick Visitor Centre to discuss Active Travel with partners in Shetland, to Scapa Flow to discuss wind farm and fisheries development work in Orkney, to Forsinard Flows nature reserve with SNH staff, and to the Highlands to see work by the Scottish Invasive Species Initiative.
ENDS
MEDIA QUERIES: For more information, contact SNH media relations & PR officer, Vicki Mowat, on 0131 316 2659 or vicki.mowat@nature.scot or the main SNH press office on 0131 316 2655 or snhmedia@nature.scot.
PICTURES: Free use. Please credit SNH/Lorne Gill.
Contact information
Name

SNH Media

Email
Notes to editors
#CycleforNature has been divided into seven legs of five days each:
Leg 1 – w/c 12 March: Galashiels, Edinburgh, Hamilton, Clydebank, Dunnon
Leg 2 – w/c 09 April: Rum, Skye, Stornoway, Ullapool, Kinlochewe
Leg 3 – w/c 29 May: Ayr, Newton Stewart, Cairnsmore of Fleet, Dumfries
Leg 4 – w/c 11 June: Stirling, Loch Leven, Cupar, Battleby
Leg 5 – w/c 16 July: St Cyrus NNR, Glen Tanar NNR, Muir of Dinnet NNR, Aberdeen, Forvie NNR, Elgin, Aviemore
Leg 6 – w/c 13 August: Lochgilphead, Islay, Oban, Fort William, Creag Meagaidh
Leg 7 – w/c 08 October: Lerwick, Kirkwall, Golspie, Dingwall, Inverness
Scottish Natural Heritage is Scotland's nature agency. We work to improve our natural environment in Scotland and inspire everyone to care more about it. So that all nature in Scotland - our key habitats and landscapes, all our green space and our native species - is maintained, enhanced and brings us benefits. It is the job of all of us to achieve a balance in the sensitive management of our natural world in order to maintain and enhance biodiversity. For more information, visit our website at www.nature.scot or follow us on Twitter at https://twitter.com/nature_scot
'S e Dualchas Nàdair na h-Alba buidheann nàdair na h-Alba. Tha sinn ag obair airson ar n-àrainneachd nàdarra ann an Alba a thoirt am feabhas agus a h-uile duine a bhrosnachadh gus barrachd cùraim a ghabhail dhi. Gus am bi an nàdar air fad ann an Alba – ar prìomh àrainnean is chruthan-tìre, ar n-àiteachan uaine gu lèir is ar gnèithean dùthchasach - air an gleidheadh, air an leasachadh 's a' toirt bhuannachdan dhuinn. 'S e an dleastanas a th' oirnn uile co-chothrom ann an stiùireadh faiceallach ar saoghail nàdarra a ruighinn airson bith-iomadachd a ghleidheadh 's a leasachadh. Airson an tuilleadh fios, tadhail air an làraich-lìn againn aig www.nature.scot/gaelic no lean air Twitter sinn aig https://twitter.com/nature_scot