19 June, 2018
Ambitious project launches to halt alien invasion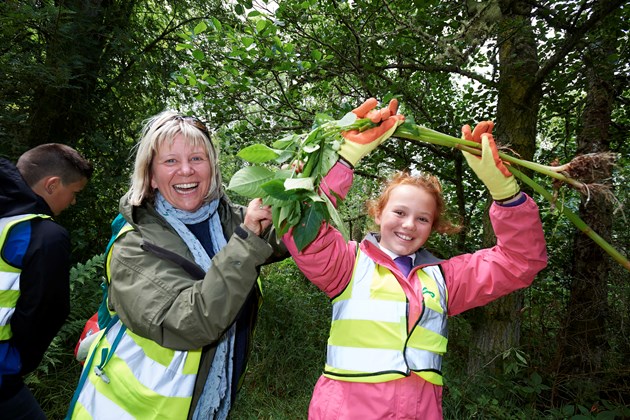 The £3.34 million Scottish Invasive Species Initiative was officially launched yesterday by Scottish Natural Heritage with the help of pupils from Ben Wyvis primary school.
The initiative, led by Scottish Natural Heritage (SNH) and funded by The National Lottery, was set up to tackle one of the countryside's biggest problems – invasive non-native (alien) species.
On the River Conon, it was a case of many hands make light work, as the P6 class from Ben Wyvis Primary School (Conon Bridge) gamely rolled up their sleeves and got stuck in to helping pull out the invasive Himalayan balsam plant.
Environment Secretary Roseanna Cunningham said: "Scotland's habitats and wildlife are internationally important, but they are being threatened in some places by an invasion of non-native species. The Scottish Government has been working hard to tackle this problem for many years so I am very happy to support the Scottish Invasive Species Initiative, through Scottish Natural Heritage funding. The initiative will rely on one of our greatest resources – volunteers – in order to put long-term solutions in place. I would like to thank the volunteers who work so hard on a wide range of environmental projects right across Scotland – they have my respect and admiration."
Lynn McKelvey, Cromarty Firth Fishery Board Project Officer explained why the pupils' help was needed: "Here at Garrie Island, in the river Conon, we have fantastic wet Alder woodland, which is designated as being important at both a UK and European level. However, the woodland habitat has been under threat from invasive species, particularly Himalayan balsam, which spreads so quickly growing in dense stands, meaning no native wildflowers can grow. In winter it dies back leaving the riverbanks bare and at risk of erosion, which can also lead to flooding problems. We did some survey work and found the source of the plant – it had escaped from someone's garden 10km upstream! For the last 10 years we've had a strategic programme of control underway, gradually working downstream removing all the Himalayan balsam, but it's a slow and thankless task, so we are grateful to the local school for coming along and helping out today."
Head Teacher Tania Mackie commented; "Outdoor Learning is fundamental to the curriculum at Ben Wyvis Primary School, as is working with local partners. We are delighted to be working with Cromarty Firth Fishery Board and the SISI project. Not only are the children being supported by experts, but the pupils of Ben Wyvis Primary are also learning about their local environment. Learning in context is a valuable experience for all our young people and as a school we are encouraging our young people to step beyond the classroom, whilst developing the young workforce".
Himalayan balsam is just one of the invasive species that the Scottish Invasive Species Initiative (SISI) will be tackling over the next 4 years, along with Giant hogweed, Japanese knotweed and American mink. Not only do these plants out compete native flowers and leave the riverbanks at risk of erosion, in the case of Giant hogweed they can cause serious burns on contact with skin so are a real hazard. The Initiative is also going to be controlling the invasive American mink, which had a devastating impact on the native water vole populations when it escaped into the countryside.
Project Manager, Callum Sinclair added; "Invasive non-native species are a big threat to the nature of Scotland and so it's crucial we address the problem. They are species that have been introduced to Scotland and are spreading and causing harm to our environment, native wildlife or people.
"We can't deal with this threat on our own, so our project is working with volunteers and local communities to put in place sustainable, long-term control for the worst offending invasive plants and the American mink. This is a really ambitious project working at a huge scale. It encompasses over a third of Scotland and the success of it hangs on the support and dedication of networks of volunteers working with us and our local fishery trust partners.
We are delighted to have the pupils of Ben Wyvis helping us - you're never too young (or old) to care and be passionate about your local environment and these young people are making a great contribution to their river with the help of the Cromarty Firth Fishery Board team. Hopefully they can help inspire others to get involved too"
SNH Head of Policy and Advice, Eileen Stuart, joined the group to mark the official start of the SISI project. She said "Invasive non-native species are recognised as one of the biggest threats to nature worldwide, even more so than climate change. They are also having a significant impact on our economy, costing Scotland an estimated £300 million a year.
"We are delighted to see this project starting and know that by working together with local communities and schools the project will be successful in raising awareness of the problem, as well as controlling invasive non-native species, and at this scale, it will have a significant impact on improving our countryside."
The Initiative received an award of £1.59 million from the Heritage Lottery Fund. Lucy Casot, Head of HLF in Scotland, said: "Our natural heritage is a most precious resource and, thanks to funding from The National Lottery, we have helped to protect an amazing range of Scottish landscapes, habitats, and species of plants and animals. We are proud to support the Scottish Invasive Species Initiative in their efforts to encourage people of all ages to get involved in the natural world and in doing so, conserve it for future generations to enjoy."
The Scottish Invasives Species Initiative can be contacted on SISI@snh.gov.uk, or via social media.
End
____________________________________________________________
For further information, please contact:
Vicky Hilton
Communications Officer, Scottish Invasive Species Initiative
vickyhilton@fnlft.onmicrosoft.com t: 01309 611220 / m: 07340 373211
Callum Sinclair
Project Manager, Scottish Invasive Species Initiative
callum.sinclair@snh.gov.uk t: 01671 404705 / m: 07880601951
Pictures: Both pictures are of Himalayan balsam. Credit GBNNSS (GB Non-Native Species Secretariat).
Contact information
Name

SNH Media

Email
Notes to editors
The Scottish Invasive Species Initiative (SISI) is a four-year partnership project in northern Scotland led by Scottish Natural Heritage (SNH) and involving many fishery boards and trusts1 and the University of Aberdeen. SISI is funded by the Heritage Lottery Fund and Scottish Natural Heritage.
The total value of the project is £3.34 million. Funding is from the Heritage Lottery Fund (£1.59m) and Scottish Natural Heritage (£500k), with in-kind funding from the Fisheries Trusts and volunteer time (£1.25m).
The project area encompasses over a third (37%) of Scotland. This is focused in northern Scotland and covers an area of approx. 29,500 km2 from the Tay catchment in the south to the remote catchments of north-west Sutherland.
SISI has provided employment for five full-time and two seasonal staff, and is also supporting existing staff time within fishery trusts and boards.
SISI will take a partnership approach to ensure effective large-scale co-ordinated invasive species control, engaging with organisations, communities and volunteers.
The target INNS species of the SISI project are; American mink (Neovison vison), Giant hogweed (Heracleum mantegazzianum), Japanese knotweed (Fallopia japonica), Himalayan balsam (Impatiens glandulifera), American skunk cabbage (Lysichiton americanus), White butterbur (Petasites albus) and Coneflower (Rudbeckia sp.).
1 Fishery Trust / Board Partners; West Sutherland Fisheries Trust, Wester Ross Fisheries Trust, Cromarty Firth Fisheries Trust, Ness & Beauly Fisheries Trust, Findhorn Nairn & Lossie Fisheries Trust, Spey Fishery Board, Deveron Bogie & Isla Fishery Trust, River Dee Trust, Esks Rivers and Fisheries Trust and Tay District Salmon Fishery Board.
Scottish Natural Heritage is the government's adviser on all aspects of nature and landscape across Scotland. Our role is to help people understand, value and enjoy Scotland's nature now and in the future. For more information, visit our website at
www.nature.scot
or follow us on Twitter at
https://twitter.com/nature_scot
Tha Dualchas Nàdair na h-Alba na buidheann comhairleachaidh dhan riaghaltas a thaobh nàdair agus seallaidhean-tìre air feadh Alba. 'S e an dleastanas a th' againn cuideachadh a thoirt do dhaoine gus tuigse, luach agus tlachd fhaighinn bho nàdar na h-Alba, an-dràsta agus san àm ri teachd. Airson tuilleadh fiosrachaidh, tadhail air www.nature.scot/gaelic no lean sinn air Twitter aig https://twitter.com/nature_scot